Ford Performance engineers are trail testing prototypes of the all-new F-150 Raptor ahead of its public debut around this time next year.
Ford says its all-new Raptor, beefed up with a 450-hp twin-turbo EcoBoost V-6, is able to tackle even tougher hills, ruts and bumps along trails than the previous model.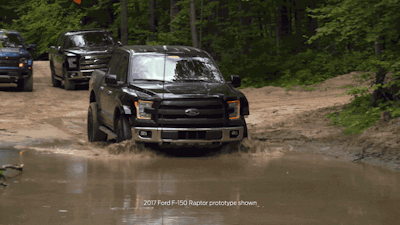 In the video above, an early engineering prototype that combines parts from the 2017 Raptor with the 2015 F-150 climbs tight two track trails in Northern Michigan, where the team is testing the new truck's components.
Frankly, this test doesn't appear to be all that challenging, especially for a truck as off-road capable as Raptor. But it does give you a nice glimpse of the NexGen pickup's ground clearance, which is higher than previous generations Raptor. Just for kicks, for 2017 Raptor will come standard with new 3.0-inch FOX Racing Shox with custom internal bypass technology.
Raptor's all-new four-wheel-drive is complete with a torque-on-demand transfer case, which manages power distribution between the front and rear wheels. Ford says it has combined the best attributes of clutch-driven, on-demand all-wheel drive with durable and mechanical-locking four-wheel drive.
The 2017 Raptor is expected to hit dealer lots next fall, and an off-road trail near you about 10 minutes later.