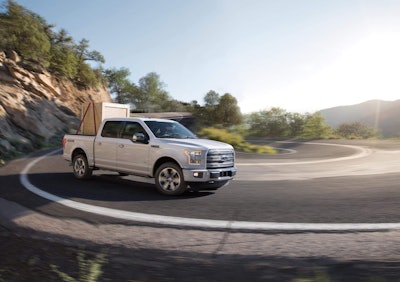 Have to make a difficult choice between a Ford Mustang and an F-150?
We'll Ford's new F-150 has got you covered. Kind of.
The all-new 2015 Mustang and F-150 were developed on a similar time line and share certain automatic transmission technology. Engineers often drove both vehicles on the same trips used for testing.
"Our team realized how well the new F-150 handled and responded to acceleration due to its reduced weight," says Karl Jungbluth, Ford transmission calibration engineer. "So we decided we could adapt the sport mode capabilities of the six-speed automatic transmission from Mustang to F-150 to enhance the overall driving experience for truck customers."
Sport mode on F-150 is activated by pushing the tow/haul mode button twice. An amber S appears in the lower-right portion of the tachometer indicating that sport mode is active.
The feature changes the frequency of gearshifts, allowing the truck to stay in the powerband "sweet spot" and holds lower gears longer to, as Ford puts it, "make driving more fun."
There is some practicality of Sport mode beyond fun. It provides for less shifting on twisty roads and rolling hills. Instead of shifting gears up and down for peak efficiency, the transmission holds a specific gear longer to make driving more responsive.
Sport also mode reduces the frequency of having to step on the gas pedal to reach peak torque, resulting in quicker acceleration with less pedal travel.
An advanced feature of F-150's six-speed automatic transmission is its ability to match engine rpm as it downshifts in slowing for a corner. Electronics calibration for this feature comes straight out of Mustang.
"[Sport mode] makes Mustang come alive, and we feel it does the same thing in F-150," Jungbluth says.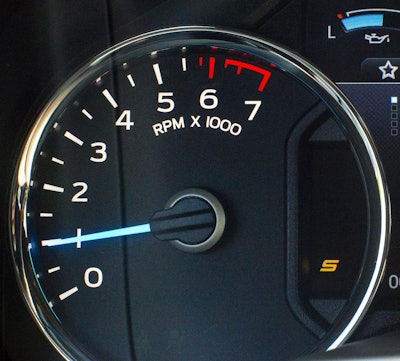 Sport mode is similar to F-150's tow/haul mode, which also changes shift points under acceleration, keeping the truck at a higher rpm and further up in the power range while driving over rolling terrain for an improved towing experience. The technology limits the transmission from shifting up when the vehicle crests a hill, and provides downhill brake support that allows engine-compression braking to slow the vehicle and maintain a steady speed.
Sport mode is standard with every F-150 engine and can be activated in two-wheel drive, four-wheel-drive automatic and four-wheel-drive high settings.