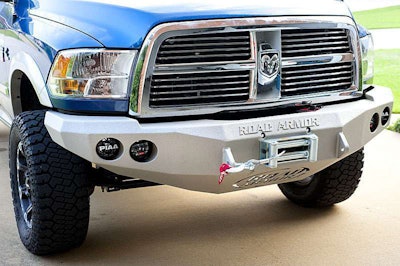 How-To Install:
Road Armor steel bumper and Warn winch combo improves both function and style to any pickup
Nothing seems to make a pickup stand out more than changes to the front, and nothing does that more than swapping out the factory chrome bumper for a really well-designed, heavy-duty aftermarket winch bumper.
Such an upgrade improves both function and form on any pickup, but more so for those that are used for work.
One such bumper is the Stealth series from Road Armor, one of the first manufacturers to offer heavy-duty winch bumpers that blend with the contours of the truck.
The Stealth is a stout bumper, the main components made from 3/8-inch steel, and really well designed with pedestal-mount light buckets, integrated tow hooks, and winch mounting plate designed into the unit.
To say it's "mil spec" is no hype as Road Armor is a bumper suppler to the military. So we figure it'll suit the needs of any contractor, construction worker or outdoorsman.
A Stealth series winch bumper adds instant "personality" to a company vehicle while providing a protective wall to fend off typical job site frontal impacts and a sturdy platform for a winch with lots of pulling power.
We had our friends at Truck Supply & Outfitters in Tuscaloosa, Alabama, instal one on a 2010 Dodge Ram 2500 Crew Cab 4×4 diesel.
They are experts at installing Warn winches, winch bumpers, and winching/lighting accessories. They also stock nearly any item a contractor would want in setting up a pickup for hard work and hard play.
The gallery of images below shows just how easy it is to install a Road Armor bumper — an in doing so, dramatically increasing any full-size pickup's, appearance, durability and functionality.