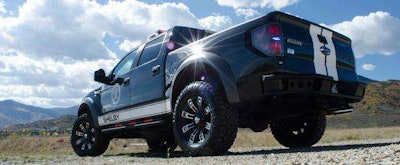 Not every police chase happens on the freeway or some other easily navigable surface road, but if you're ever in Park City, Utah don't try and elude the law off road.
Park City businessman Bill White recently worked with his local PD to develop a special police edition Ford Raptor. The truck isn't likely to pursue a suspect toward the mountain ranges. Wade Carpenter, Park City Chief of Police, said that the vehicle is used occasionally for patrol, but its primary purpose with the police force is to attract people to the positive outreach programs that the police department advocates, including the Leaders 4 Life Coalition
The truck started as a Shelby American equipped Ford Raptor, featuring a supercharger for added power, larger wheels and tires, custom bumpers and the signature racing stripe. White and Carpenter had it upfitted with equipment for law enforcement including a high-intensity strobe emergency light, communications equipment and a slide-out bed storage system.