"Pay no attention to the man behind the curtain!"
Unless he's helping you make aerodynamic gains.
The 2015 Ford F-150, the flagship's most aerodynamically efficient F-150 ever, borrowed air curtain technology from the Mustang to help air to flow through a vent underneath the headlamps and out around the wheel, reducing wind drag.
"With the new F-150, an extensive amount of time was spent running aerodynamic simulations and doing wind tunnel tests," says Rob Lietz, Ford technical expert in applied computational fluid dynamics. "Major advances in our computational fluid dynamics capability let us quickly see how we could improve airflow while maintaining the tough truck looks expected from F-150."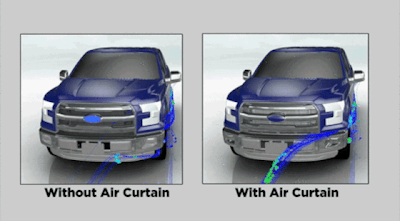 Engineers found rotating wheels are a major source of drag, but enclosing the wheels in skirts to smooth the flow isn't necessarily practical or attractive. Lietz and his team adopted a different approach.
Horizontal slots underneath the headlamps channel air from the front of the truck through ducting to openings in the wheel wells, which direct it across the outer surface of the wheel and tire. The wall of high-speed air works like a skirt to reduce drag, while still leaving the alloy wheels exposed.
See Ford's other aerodynamic efficiency improvements for F-150 by clicking here.