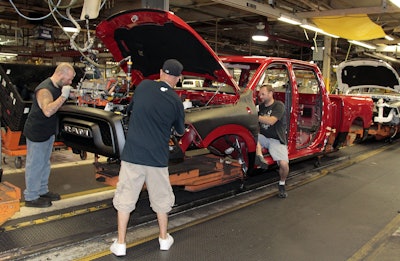 Michigan assembly plant pushes out first 2015 Ram 1500 Rebels
This is a special week for employees at Ram Truck's Warren Truck Assembly Plant – and for those buyers standing in line waiting for their Ram 1500 Rebels to get to the local dealers.
Fiat Chrysler Automobiles (FCA) began Rebel production this week at the Michigan plant where more than 4,000 employees across 3.3 million square feet of the Company's 75-year-old truck plant put the throttle down.
Operating on three crews, the Warren Truck Assembly Plant is also home of the only consecutive winners of the prestigious Motor Trend Truck of the Year: the 2013 Ram 1500 and 2014 Ram 1500 EcoDiesel.
The Ram 1500 Rebel is also special. It makes a statement with an all-new, blacked-out grille and distinctive billet silver "RAM" letter badge. The new Ram package is designed with increased ride height, standard 33-inch tires, skid plates, tow hooks, and a unique brawny interior starting at $42,790.
Building more than 286,000 available combinations of the Ram 1500, the Warren Truck Assembly Plant has produced more than 12.5 million trucks since its operations began in 1938.