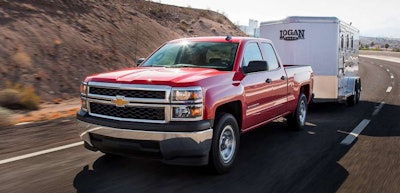 Perceived quality of product is a key factor in how buyers of new vehicles respond to a yearly survey done by J.D. Power, and this year buyers of 2015 Silverado 1500s place that truck at the top.
The Chevrolet Malibu, Equinox (tie), Silverado 1500 and Spark ranked highest in their respective segments for the J.D. Power 2015 U.S. Initial Quality Study.
Chevrolet has 10 models in Top 3 positions, more than any other brand, foreign or domestic.
The other Chevrolet nameplates achieving a Top 3 score for their respective segment include the Sonic, Traverse, Camaro, Impala, Silverado HD and Tahoe.
"We are constantly challenging ourselves to bring to market the highest-quality products for our customers, regardless of the type of vehicle they purchase," said Alan Batey, global Chevrolet president. "Quality studies like this one tell us we are moving in the right direction."
The IQS announcement for 2015 models coincides with a strong May sales performance for many of the brand's nameplates highlighted in the study. Overall, Chevrolet U.S. sales are up 1.6 percent over the same period last year with the Silverado 1500 sales up 12 percent and the HD models up six.
The 2015 IQS is based on responses from more than 86,000 purchasers and lessees of new 2015 model year vehicles surveyed at 90 days of ownership.
The study includes a 233-question survey designed to provide manufacturers with information they can use to quickly identify problems and drive improvement.