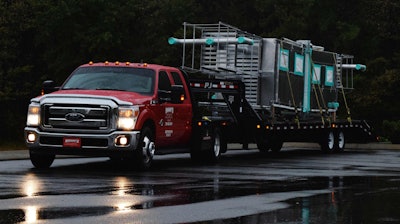 By Todd Dills
This is the second of a two-part article looking at hotshot freight hauling. Part 1 can be found here.
OWNER-OPERATOR: Jeff Ward
TRUCK/TRAILER: 2012 Ford F350 diesel, 30-ft. P.J. fixed-gooseneck deck
FREIGHT: Various, from commercial HVAC units to railroad signal houses
Geographic specialization
Atlanta-area owner-operator Jeff Ward started his hotshot business with a big F450 cab and chassis outfitted with a flatbed body and gooseneck-type hitch. He was a trucking veteran, having run over-the-road long ago and spending much of his career with his own authority running dump trucks.
Ward got his start in hotshot when he was asked to help a shipper involved in high-rise building projects around Atlanta. Though the housing market crash had dealt a heavy blow to his dump outfit, this other business was going strong. Within five days, Ward bought a Ford F450 and flatbed trailer and started work. He rechristened his business Brady's Hotshot Hauling, named for his youngest son who thought it was something else to have his name on the truck's door.
The eggs-in-one-basket tack was lucrative – Ward did $125,000 in revenue that first year as a hotshot, well better than he's done since. Running with his own carrier authority with a goal of establishing a solid customer base for freight, Ward could see the eggs-in-one-basket approach wasn't going to last. So before the building projects wrapped up, "I started branching out and going to different jobsites," he says. "I stayed with it, met some people" and discovered there "seemed to be more opportunity in hotshot trucking than dump trucking."
With the dump business, he'd been home every night, a big improvement from his OTR days with Averitt Express that ended in 1996. "I was married with a couple of kids and wanted to be at home with the family," he says.
Home time also has been good with his hotshot business, the majority of his freight centered in and around Atlanta. Customers, including a regional utility, were established over the years "from just word of mouth."
One regular haul to Kentucky occasionally requires a layover. The freight is aluminum signal houses for railroad operations, big and bulky but light enough to keep Ward's GVW under 26,000 lbs., where he's tagged.
The haul is the product of a relationship with a broker at Seamates in New Jersey that started when Ward's original runs were dwindling. "I started getting on these load boards," he says, with subscriptions to Internet Truckstop (truckstop.com) and DAT's TruckersEdge (TruckersEdge.net).
A single instance of posting his hotshot truck's availability led to the Seamates broker's call. Today, "anytime they've got something" out of Atlanta that will fit his weight/size characteristics, "I'm the first person she calls," Ward says.