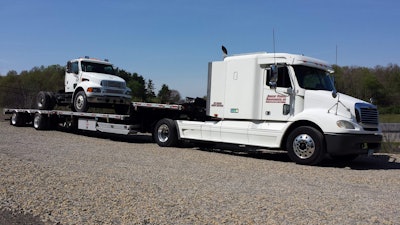 By Todd Dills
OWNER-OPERATORS: Sue and Kevin Nelson
TRUCKS/TRAILERS: 2000 Ford F250 diesel pickup and 26-ft. gooseneck trailer; 2012 4×2 Freightliner Columbia, 48-ft. step deck
FREIGHT: Mining, fracking equipment, vehicles, anything that will fit on one of their deck trailers
'Hotshot on steroids'
Ohio-based Straight Forward Transportation owner-operators Sue and Kevin Nelson started hauling hotshot freight out of necessity. Kevin, working in construction, had been laid off once, and when the recession hit in 2008, "he got laid off a second time."
Years earlier, the couple had run a small fleet before opting out of trucking for a time and already owned a 2000 Ford F250 pickup. It was outfitted with a gooseneck hitch with leaf springs strengthened to haul a horse trailer. "For not a lot more money, we could buy the trailer," Sue says – a gooseneck deck not dissimilar from owner-operator Jeff Ward's. It was a natural step to get back into hauling.
For freight, the couple took to load boards, "knocked on a few doors" and "passed out some business cards," Sue says.
They've used the GetLoaded.com load board since the beginning. Butch Sarma, GetLoaded.com product manager, says greater interest in the hotshot niche prompted the company to introduce a new feature this summer. GetLoaded.com "pushed out an advance version of our searching tool that allows the carriers in the load board to define a hard weight limit," Sarma says. It's especially useful for hotshot loads, with results grouped for "an open-style or closed-style trailer."
While the new feature's dubbed a "partial/LTL" search, "it's really built for the hotshots," he says, and "will also work for LTLs with a small space open."
There's still a learning curve for freight brokers posting loads there to get the best functionality for carriers, says Sue Nelson. "Some of our frustrations are that the brokers want you to call them," she says. "They don't always put information in that is helpful in your search on the load board," such as load weight.
Nonetheless, GetLoaded.com remains "the only load board we pay for," Sue says, accounting for a sizable portion of the business' freight.
Lately, following the couple's purchase of a Class 8 2012 Freightliner Columbia with a single rear drive axle – the couple's "hotshot on steroids," she says – and a Fontaine step deck with container locks, Kevin's running empty containers "from one shipyard to another."
They're doing well enough that Sue quit her other job "at the end of February. When I was working outside of trucking, that helped us to get this going and got us to a point where I could leave that job and devote myself full time to this. It'd gotten to the point where it was almost unmanageable for him alone. Now at least he can drive, and I can do everything else for him."
She runs the occasional load in the F250, and she's studying to get her Class A CDL, which could take them farther afield into expedited team loads.