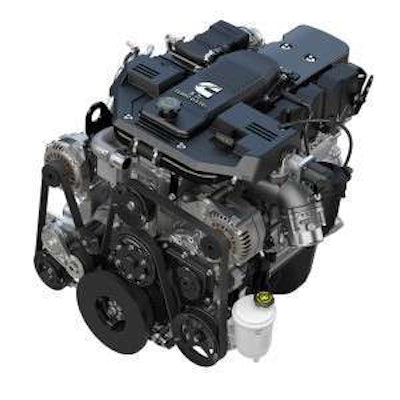 Cummins Inc. said Friday it has received certification for its 6.7L Turbo Diesel from the California Air Resources Board (CARB), meeting the Low-Emission Vehicle III (LEV III) standards, becoming the first engine maker to meet those standards.
The Cummins 6.7L Turbo Diesel powers the Ram Heavy-Duty lineup, and is the first medium-duty diesel engine in the 8,501-14,000 lb GVWR segment.
"Being the first in this segment to certify to these new standards demonstrates our continued commitment to the environment, and meeting more stringent requirements without hardware changes allows us to maintain the proven capability and reliability that our customers have grown to expect," says Jeff Caldwell, General Manager – Pickup Business.
Under LEV III, the nitrogen oxide (NOx) and non-methane organic gas (NMOG) standards are combined into a single NOx+NMOG standard, along with extension of emissions-useful life to 150,000 miles for emissions control systems. LEV III standards also introduce more stringent NOx+NMOG fleet average requirements, which phase in from MY 2015-2022 for all medium-duty vehicles. These new standards were adopted by the Air Resources Board (ARB) in January 2012.
Cummins began providing diesel engines to Chrysler in 1988, and has shipped over 2 million engines in the last 25 years.