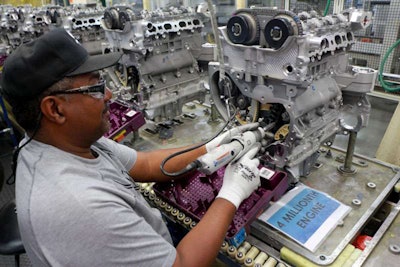 Tennessee Engine Plant Builds 4-Millionth GM Ecotec
General Motors Spring Hill powertrain plant today produced its 4-millionth Ecotec engine just two years after the 3-millionth engine was assembled.
"GM's line of Ecotec engines continue to win awards and recognition from critics and consumers alike for their fuel efficiency and power," said GM Spring Hill Complex Manager Ken Knight.
In 2010 and 2012, WardsAuto named the Spring Hill-manufactured Ecotec engine one of the '10 Best Engines' for North America."
The 4-millionth engine powers the all-new 2014 Chevrolet Malibu Eco. Similar engines built at Spring Hill power the Chevrolet Equinox, Chevrolet Captiva Sport (Mexico), Chevrolet Orlando (Korea), Buick Regal, Buick LaCrosse, Buick Verano, Buick Alpheon (Korea) and Opel Astra (Poland), and GMC Terrain.
"GM's continued investment in the Spring Hill engine plant recognizes the skills and the world-class quality that each of the UAW 1853 members build into each engine produced," said UAW Local 1853 Shop Chairman Mike Herron.
"We are proud to see our UAW members skillfully building engines for our customers around the world that help power our great GM vehicles and give our customers the power they need while saving money at the gas pump too." ​
GM Spring Hill currently manufactures the Ecotec 2.0L turbocharged direct injection 4-cylinder engine, the Ecotec 2.4L direct injection 4-cylinder engine and Ecotec 2.5L direct injection engine, which powers the 2014 Chevrolet Malibu and Chevrolet Impala.