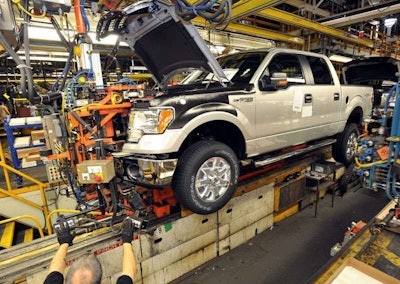 Made In America: 2014 Automotive Index Gives Different Twist On Vehicle Rankings
If your truck buying habits are dictated as much by brand as they are being U.S.-made, you'll no doubt find the 2014 "Made in America" Automotive Index produced by American University's Kogod School of Business very enlightening.
GM's Chevrolet Corvette Stingray tied for No. 1 and 17 other GM vehicles tied for places in the Top 10.
But the Ford F-150 was the only truck in the top 10, and it claimed the number one spot of the Made in America study with a cumulative score of 87.5, a tie with the Corvette.
Toyota's Tundra was the only other pickup in the top 20, ranking 11th with a score of 78.5, followed by the Sierra and Silverado in 22nd position with a score of 70.
The Ram Truck 1500 finished near mid-pack at 33rd place, scoring 63.
Nissan's Titan and Frontier ended up 40th on the Kogod School of Business Automotive Index with a 59 and the Toyota Tacoma 42nd with a score of 57.
The index is authored by Frank DuBois, a global supply chain management expert and professor at American University.
DuBois developed the list based on data from the National Highway Traffic Safety Administration along with the location of headquarters, design, research and development, and where the profits go.
More comprehensive than other studies of its kind, the Kogod index ranks 318 car models based on seven weighted data points.
These criteria include several factors, unaddressed by the American Automotive Labeling Act, which is the basis for "made in America" automotive studies:
Profit Margin: Location of the automaker's global headquarters
Labor: Location of assembly
Research & Development: Location of R&D activities
Transmission: Location of production
Inventory, Capital and Other Expenses: Location of assembly
Engine: Location of production
The Labeling Act "Domestic Content" Score
Based on the Labeling Act, if 75 percent of a vehicle's value or more of a car's parts come from the U.S. or Canada, it's considered a domestic product.
Nearly 80 percent of Americans would rather buy an American-made product, according to a Consumer Reports National Research Center survey.
Furthermore, a recent 2013Consumer Reports article pointed to the 2013 AU/Kogod study as the study to use when trying to decipher which vehicles are American made.
To view the complete 2014 Kogod Made in America Auto Index, visit https://www.american.edu/kogod/autoindex/2014.cfm.