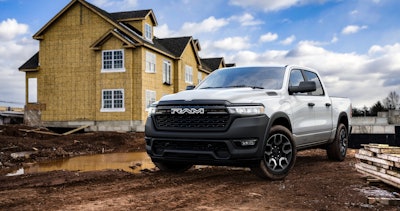 Ram
No charging station, no problem. Stellantis touts its all-new 2025 Ram 1500 Ramcharger as an electric pickup with "unlimited" range, thanks to a battery pack paired with a gas-powered generator that kicks in to charge the battery once it's depleted.
While "unlimited range" might be a stretch, the 690 miles the Ramcharger can travel on a full charge and a full tank is impressive, considering the size and towing capacity of the truck. It's a stat worthy of some head turns for those sitting on the EV fence with range anxiety. The other big advantage is, if you run out of battery power and run low on gas while on the road, you can pull into a gas station and run on gasoline until the battery recharges or you get time to plug in.
"With unlimited battery-electric range, the Ram 1500 Ramcharger is the pinnacle of the light-duty pickup truck segment and the ultimate electric truck," said Tim Kuniskis, Ram brand CEO – Stellantis. "The new Ramcharger is a beast of a light duty – 663 horsepower, 615 pound-feet of torque, 4-second 0-60 mph, 14,000 pounds of towing … and zero need for a public charger." It has a maximum payload capacity of 2,625 pounds.
The truck, which is really more of a plug-in hybrid, is equipped with a liquid-cooled 92 kWh battery pack and is paired with a 3.6-liter V-6 engine on-board 130 kW generator, sending power to two electric drive motors (EDM) – a 250-kW one in the front and 238-kW in the rear. Ram's website calls it a "Range-Extended Electric Truck."
The EDMs combine the motor, gearbox and inverter along with all-wheel-drive capability. The motor on the front axle has an automatic wheel-end disconnect that allows the front wheels to spin freely in certain conditions, maximizing efficiency. The motor on the rear axle has an available electronic-locking rear differential. The 3.6-liter Pentastar V6 engine generates mechanical power that is converted to electrical power by the 130-kW generator. That power can be used to charge the battery when it is depleted or if the driver wants to preserve the battery power. It can also be applied to the high-voltage bus, Ram says, where the EDMs can use the generator electrical power plus the battery electrical power to provide maximum power to the wheels.
The on-board generator mounts directly to the engine. A power inverter module mounts on the vehicle and connects to a junction box. There is no direct mechanical path from the engine to the wheels. The Ramcharger's liquid-cooled 92-kW is located under the floor in the center of the truck. A 400-volt DC fast charger allows the truck to add up to 50 miles of all-electric range in approximately 10 minutes.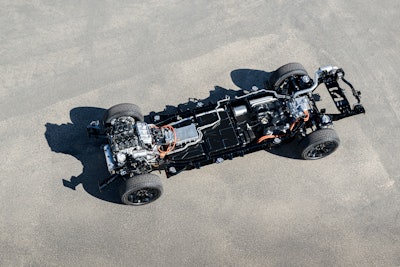 Like Ford's all-electric F-150 Lightning, the Ramcharger can charge other battery-electric vehicles (Stellantis only) or send power back to the grid using vehicle-to-vehicle and vehicle-to-home bi-directional charging. An onboard power panel in the bed can provide up to 7.2 kW to power a home during a storm or provide power at a jobsite.
[Related Content: Electric Ram 1500 Revolution Pickup Slated for 2024]
All those components are housed within the Ramcharger's all-new STLA Frame platform made of lightweight, yet stiff and durable, high-strength steel designed specifically for full-size electric vehicles.
The multi-link independent rear suspension with standard, active-level, four-corner air suspension provides a smooth ride and handling. The adjustable air suspension comes in five modes: entry/exit, aero, normal, off-road 1 and off-road 2. The Autonomous Drive Assist System includes Hands-free Highway Assist (L2+), which offers hands-off driving at all speeds and lane centering on approved roadways. The system will predictively slow the vehicle down in tight curves, automatically resume control after driver override and verify that the driver is paying attention to the road, Ram says. Available autonomous parallel and perpendicular parking assist uses multiple sensors, including radars and cameras, to determine which roads are appropriate for the technology.
Distinguishing Design
The 2025 Ram 1500 Ramcharger maintains the signature Ram styling while incorporating several distinguishing features.
Subtle differences include a large, forward-leaning grille with a prominent R-A-M badge and a modern, body-color front fascia. A drawn body-side character line stretches from front to rear, tying together the front fender, cab doors and bed fenders. For reduced drag, the bed and cab are sub-flush.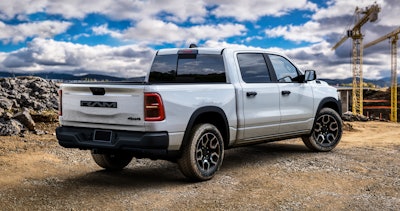 At the rear, the truck features an all-new power tailgate and a new, modern and contemporary R-A-M badge. The EV-specific, LED taillight design spans onto the tailgate, indicating it is an electric truck.
The charge port is located on the driver's side front quarter panel and, when plugged in, the R-A-M badge pulsates to indicate the charging status. An audible sound alerts drivers that the truck is plugged in, and charging has begun. The charge port features Level 1 and Level 2 AC charging on the top half and DC fast charging on the bottom half. A 115-volt outlet is located in the weatherproof and lockable RamBox in the truck bed.
Carbon fiber, metal and leather elements adorn the inside of the Ram 1500 Ramcharger, providing comfort and durability.
Standard integrated technology includes the Uconnect 5 system with a new 14.5-inch touchscreen, 12.3-inch digital instrument cluster, a segment-first 10.25-inch passenger screen, digital rearview mirror, Head-up Display and a Klipsch Reference Premiere audio system.
The Uconnect system offers the following connected services and features:
12- and new 14.5-inch reconfigurable touchscreen displays with split-screen capability for dual application operation.
New 10.25-inch passenger screen offers co-pilot (navigation, device management), entertainment (via HDMI) and the ability to view the exterior vehicle cameras.
EV Pages showing:

Power Flow: demonstrates the flow of power through the vehicle in kW
Range Impact: advises how to reduce energy consumption and increase range
Driving History: a power/charge bar chart showing energy consumption and regeneration in current, weekly, two-week and four-week intervals
Charge Schedules: user can select the optimal charging schedule
Max Battery Level: customer has a choice between an 80% charge level for daily/towing needs, which is optimized for battery performance, or 100% for long distance needs
Charging Level
Driver's Digital Cluster Display: features one pedal driving that can bring the truck to a stop. Other EV gauges include current power, regen and range
Other enhanced features include an e-shifter (P/R/N/D functionality with new buttons for eco mode, e-save and electric+), new regen buttons (normal, max regen with one pedal driving), a redesigned starter button with an illuminated power symbol, push-button trailer steering knob and an accessory switch bank that, when equipped with the 14.5-inch touchscreen, uses buttons both on the bottom of the touchscreen and directly off screen below. Five driving modes – Auto, Sport, Tow, Snow and Off-road – separately control the drive system, accelerator response, regen level, suspension and steering so performance can be tailored to driver preferences and the conditions.
A digital key can be tied to the owner's smartphone or watch to access and start the vehicle. Digital keys can be shared with other compatible devices, while the owner retains complete control over the access.
As a backup, the provided NFC-based smart card can be used to and start the vehicle in cases where the smartphone is not available. While traditional key fobs remain standard, digital keys give customers more flexibility in accessing their trucks, the company says.
Tungsten Trim Package
Those looking for more flair can upgrade to the new Ram 1500 Tungsten trim package. It includes new platinum patina/semi-bright dual-textured metal accents, featuring diamond knurling, suede-wrapped headliner, A- and B-pillars and visors, and heated and ventilated Natura Plus quilted leather driver and front passenger seats with 24-way power, memory settings and a massage function, power lumbar support and four-way powered headrests.
A Tungsten badge on the center console featuring inlaid metal lettering and diamond knurling displays the vehicle identification number. The luxury package also gets brushed platinum patina aluminum litho bezels, a crystal-effect shifter center cap, a 1,228-watt Klipsch Reference Premiere audio system with 23 stainless steel-covered speakers, including a 12-inch subwoofer and two 1-inch titanium dome tweeters, dual wireless chargers and a metal pedal kit.