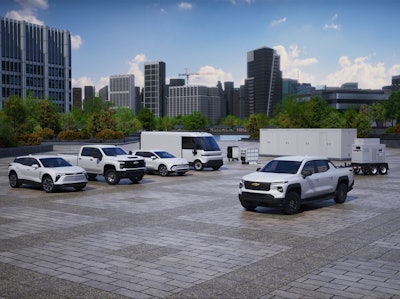 General Motors on Wednesday unveiled its latest fleet offering: a tailored, one-stop shop for fleet mobility, energy, delivery and insight needs.
GM Envolve is charged with helping fleet customers of (operators of Class 6 and below vehicles) stay ahead of change through a streamlined set of products and services tailored unique to current and future needs of their respective business. Through this new approach, GM expects to gain operating efficiencies and create more revenue generating opportunities with current and future customers.
Steve Hill, head of GM's commercial growth strategies and operations – the group that oversees GM Fleet, U.S. Sales Operations and EV Retail Innovation – said GM had already secured 300-plus conquest fleet customers and sees Envolve as the way to offer unparalleled support with "the most comprehensive suite of services in the industry.... [that] help customers handle, basically, all of their business needs going forward," he said.
GM Envolve representatives will also be able to help fleet customers plan their complete site electrification requirements, including across all EV classes. "We won't have non-public EV specifications for other EV manufacturers, but we will be able to map out the electrification infrastructure and capital requirements based on the categories and target rate of conversion for their fleets," a GM spokesperson told Hard Working Trucks.
Fleet customers will have access to the connected GM ecosystem through a single account executive because, Ed Peper, vice president of GM Fleet, noted, having multiple representatives responsible for multiple areas of a fleet's business was a point of frustration for its customers. GM Envolve customers can also manage their GM portfolio through an upcoming digital platform.
With GM Envolve, customers can access every GM platform and solution, for both internal combustion engine and battery electric vehicles.
Mobility
Products and services designed to keep businesses moving in smarter, more productive ways through our vehicle brands, GM Genuine Parts, AC Delco and Certified Service and Accessories.
Energy
A comprehensive set of solutions designed to provide commercial operations with greater energy management and resiliency through holistic offerings including stationary storage, integrated charging, cloud management, and GM's HYDROTEC fuel cell technology.
Delivery
A portfolio of hardware and software solutions, through BrightDrop, designed to revolutionize commercial delivery and logistics, and create a smarter, safer, more sustainable movement of goods.
Insight
Intelligent software designed to optimize operations through data-driven insights, while protecting people and assets, through OnStar Business Solutions.
Growth
Holistic consultancy services designed to help customers maximize performance and accelerate new growth, through our deep knowledge of products, EV infrastructure, energy, finance, sustainability, tech and more.