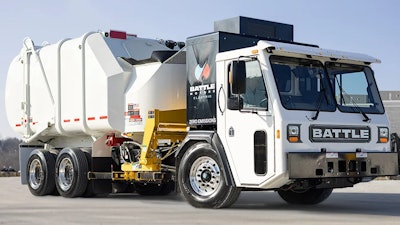 Battle Motors has released its California compliant electric refuse truck, the 3-axle LET2 (Low Entry Tilt 2), featuring the Heil Rapid Rail Automated Side Loader Refuse Collection Vehicle (RCV).
With it's commitment to assist operators in reducing their carbon footprint while upgrading their fleets with the latest in-cab and auxiliary technologies, Battle Motors says its innovative solutions mark a significant step in revolutionizing municipal fleets.
Boasting an 8.67-ton legal payload capacity, Battle Motors's tech-driven truck represents an innovative leap forward in waste management, distinguishing itself from conventional CNG (Compressed Natural Gas) alternatives with an unrivaled feature set including its impressive payload efficiency, zero emissions, and life cycle cost-effectiveness, the company adds.
[RELATED: Half of commercial vehicles to be zero emissions by 2040]
"Battle Motors is immensely proud to introduce our EV refuse truck in California," says Michael Patterson, CEO and Founder of Battle Motors. "The Battle Motors' LET2 EV truck incorporating Heil Rapid Rail ASL technology is a testament to our unwavering commitment to sustainable transportation solutions and our determination to contribute significantly to California's carbon reduction objectives. Battle Motors is taking the lead in transforming waste management and driving towards a cleaner, greener future in our state and beyond."
This heavy-duty truck's robust feature set translates into large-scale, measurable improvements, especially when considering an entire fleet, the company states. For example, the expanded payload capacity reduces waste collection trips on a 3-axle configuration, reducing road congestion and minimizing transportation-related carbon emissions. The truck's electric motor ensures near-silent operation, curbing noise pollution during waste collection activities—a critical attribute in residential neighborhoods that fosters positive relations between operators and local communities, the company adds.
Charging convenience and efficiency are other key advantages of the LET2 EV truck. Through Battle Motors' partnership with PositivEnergy, a turn-key charging solution of Level 2 and 3 chargers is available for customers. Ideal for the refuse segment, a driver can arrive in the morning, do their route and the vehicle charges overnight in the yard so when they return the next morning, the truck is good to go, the company says.
[RELATED: Isuzu names ChargePoint as charging partner]
"The Battle Motors LET2 EV with the Heil Rapid Rail is poised to handle 1,000 to 1,200 refuse containers per day and between 8 to 10 hours on route collecting refuse before needing a recharge," says Ron Creighton, fleet and municipal sales pepresentative at Velocity Truck Centers. "Playing a role in optimizing this game-changing refuse truck for the Southern California market along with partners such as Bodyworks Equipment, Inc. underscores Velocity Truck Centers' commitment to providing electric mobility to our valued customers while also offering them a forward-looking blueprint for support and services."