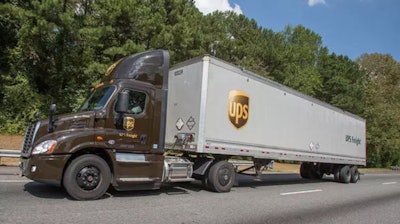 Long-haul freight and commercial business-to-business (B2B) volumes dropped as retailers closed physical locations to combat the spread of COVID-19, but business-to-consumer (B2C) volume and residential deliveries soared on the strength of homebound shoppers locked in by local and state government.
Prior to the pandemic, about 8% of truck trips were considered "local" at less than 100 miles, according to a survey conducted this spring by the American Transportation Research Institute. That more than doubled during the pandemic, while trips over 500 miles fell by 13.4%.
Reaching into the final-mile space has allowed some measure of diversification for less-than-truckload (LTL) carriers looking to capture more direct-to-consumer business.
Southeastern Freight Lines (Commercial Carrier Journal's Top 250, No. 31) has been "strategically building our final-mile service over time" said Mike Heaton, senior vice president of sales and marketing. Earlier this year, the Lexington, South Carolina-based LTL carrier placed its 400th final-mile truck into its fleet.
"These additions, coupled with an increase in demand, have resulted in a 70% increase in daily residential deliveries since last June," Heaton said. "Our company is now better equipped to efficiently make residential deliveries as well as other business deliveries, such as freestanding retail stores or strip malls with limited access."
Richmond, Virginia-based Estes Express Lines (No. 12) already was enjoying a year-over-year lift in its final-mile volume, and nationwide shelter-in-place orders proved to be an accelerant.
"We initially saw a slight downturn in March, which was quickly offset by a double-digit spike in volume in April and continued to accelerate throughout July, particularly in the residential delivery segment," said Webb Estes, vice president of process improvement for Estes Express Lines. "As a percentage of our overall business, the final-mile segment's percentage of our portfolio has nearly doubled since the first of the year."
From April to June, the U.S. e-commerce market jumped almost 35%, causing UPS Ground's residential volume to surge 63.8%.
Brie Carere, executive vice president and chief marketing and communications officer for FedEx (No. 2), said the pandemic has accelerated e-commerce adoption, and while detrimentally affecting many carriers' B2B segment, it has given rise to their B2C business.
"Several years of retail share gains have been compressed into a few months in the United States," Carere said, "with e-commerce as a percentage of U.S. retail increasing from 16% in calendar year 2019 to 27% in April 2020."
Stay-at-home restrictions mandated at the end of March and into April drove double-digit growth of B2C deliveries, said Kate Gutmann, chief sales and solutions officer for UPS (No. 1). Carere said FedEx's U.S. domestic residential volume surged to 72% – up from 56% a year ago – for the quarter ending in May, and commercial segments began to reignite as states started opening back up.
"Since the end of April … we have seen week-over-week growth in our business-to-business segment," she said.
UPS' average daily volume during the pandemic increased 22.8%, reaching 21.1 million packages per day through April, May and June, and demand for residential delivery ballooned, driving B2C shipment growth up 65.2%. Volume approached peak-like levels, while recovery-bolstered months May and June were significantly above April, said Brian Newman, chief financial officer for UPS.
"Without exception, all industry sectors grew their residential volume," Newman said. "(B2C) volume jumped 65.2% year-over-year, which is 5.8 million additional pieces per day, and B2C represented 69% of total volume."
Before the pandemic, FedEx had strategic plans to grow in the B2C sector after severing its relationship with Amazon last year. Early this year, the company expanded its FedEx Ground operations to seven days a week, invested in technology that dynamically optimizes last-mile deliveries, implemented over-the-threshold deliveries via FedEx Freight Direct and integrated FedEx SmartPost volumes to increase delivery density.
All these moves paid off faster than the company originally planned, as a tidal wave of consumers suddenly turned to the Internet for basic needs, said Raj Subramaniam, president and chief operating officer for FedEx. "What we expected to happen over a few years happened in a matter of a few months," Subramaniam said.
"Over my 46-year career with UPS," added David Abney, the company's chairman, "I have never seen the level of demand variability in the markets we serve and among our customers that we are now experiencing."
Carere said there's been an uptick in the categories that consumers are willing to purchase online, such as larger, heavier and more expensive items.
"We saw this trend obviously pre-COVID, but it has accelerated when you think about things like furniture, large packages and high-value electronics," she said.
Estes also has "seen a dramatic increase in consumers' need for bulky item deliveries to the home," Estes said.
FedEx Freight provides support for FedEx Ground's line-haul operation, as well as over-the-road and intermodal, but about three months ago, the division delivered its first Ground shipment to a customer, said John Smith, president and CEO for FedEx Freight.
"We've grown that very rapidly" via FedEx Freight Direct, which delivers bulky items such as furniture, TVs or exercise equipment, Smith said. "What that has allowed us to do is to have the right equipment to help our Ground partners and on the Home Delivery side."
Also, there's been a shift in who is clicking "Buy," as Baby Boomers finally are embracing online retail.
"From an e-commerce perspective, I do not anticipate that these buying behaviors will revert back post-COVID," Carere said.
"Our belief is that some, not all, of the new final-mile business will stick around post-COVID," Estes said. "Consumers are getting more used to online purchases, and maybe even more importantly, companies are finding creative ways to add online to their sales channel. We're seeing companies investing more in final-mile warehouses, website and strategy, and those investments will continue to be used long past COVID."