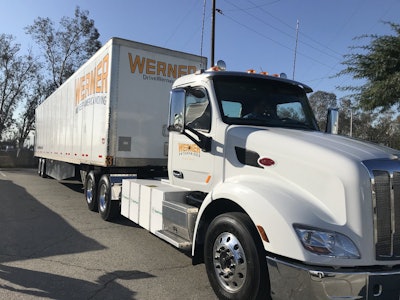 Werner Enterprises is set to kick off its first electric-powered truck pilot program this year.
Earlier this month, the Omaha, Nebraska-based carrier took possession of a 2019 Peterbilt 579 EV Class 8 electric and plans to run for a year on a dedicated account in Southern California.
Werner's first electric-powered truck is the result of a partnership with Peterbilt, Meritor and TransPower, a San Diego-based company that specializes in battery-vehicle integration for the medium- and heavy-duty markets. Meritor, in late 2017, invested in TransPower before acquiring the company outright this week.
​The 579EV delivered to Werner utilizes a TransPower Energy Storage Subsystem with a total storage capacity of 352 kWh. It is driven by a Meritor Blue-Horizon Mid-Ship Motor Drive Subsystem with up to 430 HP, features an estimated range of about 150 miles and a charging time as little as 1-hour when a fast-charging system is utilized.
The electric rig can haul up to 80,000 pounds. The truck is 100 percent electric, releases zero emissions, and requires a 5 to 10-hour charge time. It will operate in the Los Angeles metro area.
Funding for the tractor was provided via award from California Climate Investments, the state's climate change-fighting, cap-and-trade program that creates financial incentives for industries to invest in clean technologies and develop innovative ways to reduce pollution.
Werner President and Chief Executive Officer Derek Leathers noted his company was "committed to finding alternative ways to keep our trucks environmentally-friendly while using renewable energy."