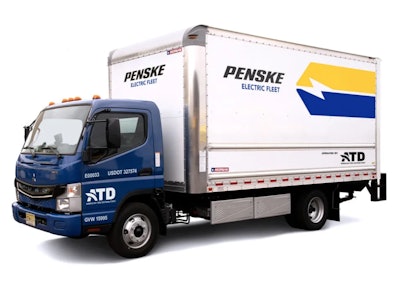 Throughout 2019, Penske got a lot of headlines for rolling out medium- and heavy-duty electric trucks. And it wasn't just trucks but also the critical charging infrastructure to support them.
In April, Penske made headlines at the Advanced Clean Transportation Expo in Long Beach, Calif. when it announced that it had opened additional DC fast chargers in Southern California.
We caught up with Penske Transportation Solutions senior vice president Andrew Cullen who provided more details along with a progress report on the large EVs.
HWT: How many electric trucks does Penske currently have in the field?
Cullen: Penske has deployed or has plans to deploy more than 25 medium-duty and heavy-duty battery-electric trucks into its fleet. Penske also has 85 light, medium, and heavy-duty electric buses it maintains.
HWT: Please list the types of electric trucks that Penske offers and where these trucks are available.
Cullen: Penske's fleet consists of Kalmar Ottawa T2-E yard tractors, FUSO e-Canters, and Freightliner eM2 and eCascadia trucks.
HWT: What are the most popular electric Penske trucks and what do you think accounts for their popularity?
Cullen: OEM supported heavy-duty commercial electric trucks are very new to the industry and have caused a great deal of excitement. Right now, Penske is deploying these vehicles in best use cases for its customers. For example, the medium-duty electric vehicle is best suited for short-range, multi-stop return to base routes.
HWT: How have Penske's electric trucks fared in the field and how are they typically being used? Any complaints about range and load capability?
Cullen: We are still in the early phases of testing these vehicles and collecting meaningful data. However, Penske's deployments of the technology in terms of acceptance, training and charging have all been positive. Deployment is very strategic, and Penske has partnered with customers who have routes and payloads within the range and weight capability of the battery systems and are in proximity to a Penske facility with EV charging.
HWT: How many high-speed chargers does Penske currently operate? Where are they located?
Cullen: Penske has deployed DC fast chargers at four of its existing facilities in Southern California, with a total of 14 charging positions. A fifth location is currently under construction, which will add six DC fast charging positions as well as a battery storage component.
HWT: Have utilities, particularly in Southern California, expressed any concerns about meeting the power demands of Penske's chargers? Please explain.
Cullen: The locations Penske selected for installation of its DC fast charging systems already had the requisite power available for the charging infrastructure installed. In general, the utilities have been very accommodating to our needs.
HWT: What are some of the biggest barriers to electric truck adoption?
Cullen: Cost, range, weight, charging infrastructure and vehicle availability are all barriers that the industry is actively working to overcome.
HWT: Maintenance requirements?
Cullen: These vehicles are subject to some of the same wear and tear as a diesel truck, such as with tires and brakes. However, there is also a great deal of complexity within the electrical systems and electrical wiring within the vehicles. Challenges remain due to wire rubbing and uncertainty around how wires and terminals perform over the road in cold weather areas using corrosive road salts.
HWT: Cost per mile versus conventional?
Cullen: Still too early to provide any feedback.
HWT: Safety performance versus conventional? For instance, some EV sources have said that EV powertrains can be safer in responding to various road conditions vis-à-vis faster and more precise torque vectoring. Also, one EV engineer told Hard Working Trucks that braking distances are shortened with EV trucks given central battery placement between the front and rear axles.
Cullen: Commercial electric vehicle safety training for technicians and drivers is evolving. Penske is working with most of the primary OEMs on vehicle safety aspects and recently completed a second round of electric vehicle maintenance training at its facility in San Diego, California. Ten Penske technicians from five locations in southern California, where Penske's electric fleet is domiciled, participated in the daylong training on maintenance procedures for commercial electric vehicles.
HWT: How did the wildfire blackouts impact Penske's ability to charge its trucks in California? Does Penske view the tactic of wildfire blackouts as a hindrance to commercial vehicle electrification?
Cullen: Fortunately, none of the locations where we have charging infrastructure in California have been impacted by the fires. Any power curtailment, whether it is related to a wildfire, hurricane, snow/ice storm, etc., will be a challenge the transportation industry will have to overcome for vehicle.