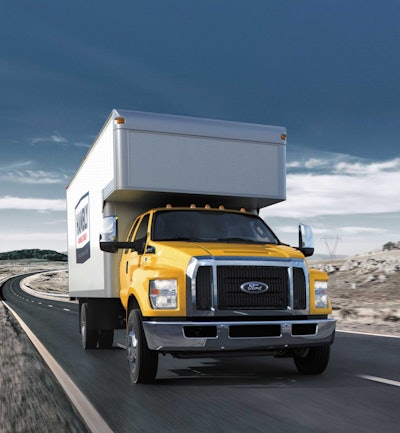 With OEM engineers squeezing more power from a tighter engine footprint, smaller displacement engines have found favor with fleets looking to shed a few hundred pounds while picking up a few extra miles per gallon. But they still lag far behind their large bore counterparts.
According to the N.A. Commercial Vehicle On-Highway Engine Outlook, published by ACT Research and Rhein Associates, engines greater than 10-liters are projected to account for more than 85% of the Class 8 production between 2020 and 2024, but a trend toward smaller displacement engines is expected to continue.
"Helped by strong tractor demand, engines over [14 liters] constitute the largest market segment in 2019, with 49% share of the over 10-liter engine market," said Tom Rhein, President of Rhein Associates.
Currently, only about 30% of all Mack's on-highway trucks are spec'd with the company's 11-liter MP7 engine. The remaining 70% are equipped with the 13-liter MP8, the largest engine available since Mack killed its MP10 16-liter engine nearly three years ago.
In fact, the rise of engines with displacement under 14 liters makes sense, as Cummins and Detroit are the only two manufacturers of on-highway power 15-liters and above.
Although the Freightliner Cascadia is currently available with a wide range of powertrain choices from Detroit or Cummins, Freightliner Trucks and Detroit Components Director of Product Marketing Kelly Gedert said the company isn't seeing a notable trend toward smaller displacement engines.
"Cascadias ordered with sleeper cabs for OTR use are mainly spec'd with DD15 engines," she said. "Feedback from our customers shows strong appreciation for the performance, efficiency and the durability of the DD15."
Peterbilt expects to close this year with nearly 60% of all its on-highway trucks spec'd with a Paccar MX-13 or MX-11 engine, leaving the other 40% to Cummins' X15 – the only other engine option available for Model 579 and Model 389.
Smaller diesels aren't the only engines gaining shares of the road, as Rhein noted gasoline penetration continues to gain share in Classes 5-7 and a rise in alternative power – like electric and hydrogen – looms.
"Diesel power is under attack long-term for use in on-highway commercial vehicles," said Kenny Vieth, president and senior analyst at ACT Research. "While total cost of ownership calculations will ultimately determine the market for alternatively powered vehicles, it is important for decision makers to understand upfront activities, like Department of Energy spending on research into advanced vehicle technologies, repercussions for violations of the Clean Air Act, and notices and hearings for proposed regulations, like those designed to accelerate the use of zero-emission vehicles."
Ford was the first truck manufacturer to offer a gasoline powertrain on medium duty trucks when it introduced one on F-650 and F-750 in 2012, and is the only manufacturer offering a choice of gasoline or diesel powertrains on conventional Class 6 and 7 trucks.
Isuzu has been selling gas low cab forward trucks in the U.S. since 1994 and Executive Director of Marketing Brian Tabel said over the last few years there has been a change with some customers switching from diesel to gas.
"The switch is due to a number of reasons of changing routes, reducing the level of input from the driver, don't need a diesel due to the miles driven per year, and many others," he said, noting about 40% of Isuzu's annual sales volume is gas versus 60% diesel. "This is a change over the past few years where it was about 70% diesel and 30% gas."
Elizabeth Kraft, commercial vehicle communications manager for Ford Motor Company, said the Detroit-area truckmaker has also noted an increase in gas selection over diesel in classes 5-7, driven by multiple factors.
"Initial purchase cost, gas is lower; maintenance over standard duty cycle time, gas is lower, however, not in all vocational applications," she said. "Gas is less costly to repair in some cases … and fuel costs."