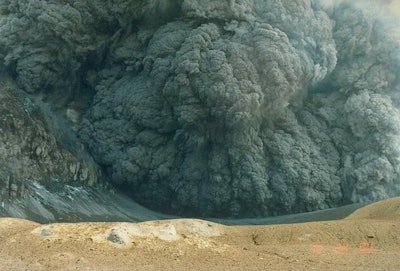 Hard Working Trucks was saddened to learn this week that a co-founder of Amp Americas and his family were among those killed by the recent eruption of the White Island volcano in New Zealand.
Amp Americas has grown through the years as a compressed natural gas supplier and risen to become a prominent renewable natural gas producer which led to its receiving the lowest carbon intensity score of any internal combustion fuel on record. Amp Americas co-founder Martin Hollander, 48, was there from the beginning.
"The Amp Americas team has been devastated by the news that one of our co-founders, Martin Hollander, along with his wife and two teenage sons, were on White Island in New Zealand when the volcano erupted," said Amp Americas CEO Grant Zimmerman. "Tragically, Martin and his sons Matthew and Berend passed away. Martin's wife Barbara is missing and presumed dead.
"Martin was instrumental in Amp's early days, serving as general manager and director and providing a key entrepreneurial spark to our team as we stood up a first-of-its-kind renewable transportation fuel company," Zimmerman continued. "He left Amp to move his family back home to Australia in 2014, and to pursue new ventures. Even after moving back home, he remained engaged in our business – often calling back to make introductions, to turn us on to new business opportunities and to debate ideas for the direction of the company.
"Words cannot express our sadness," Zimmerman continued. "We will miss Martin's bright, curious, engaging presence. And we will hold Martin, Barbara, Matthew and Berend in our thoughts and prayers along with their family and friends in the Chicago area and back home in Australia as they deal with this tragic loss."
Eighteen people were killed during the Dec. 9 eruption, according to the BBC. Hollander's wife, Barbara and their two sons were listed as the only Americans killed during last Monday's eruption. Twenty people remain hospitalized with severe burns.
(Photo above: White Island volcano during an eruption in 1988 posted on the website of the Smithsonian Institution National Museum of Natural History.)