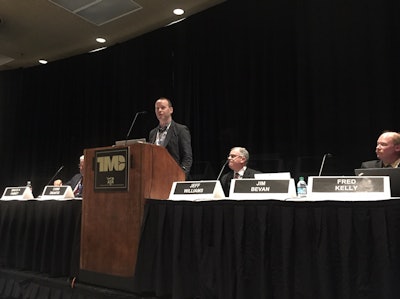 While a panel of truck experts agreed that a higher voltage system will be coming for the largest trucks on the road, no one knows for sure when that day is coming or how to best handle the transition which, while beneficial, will also prove challenging on various fronts.
Improved fuel economy and lower emissions are behind the current push for a 48-volt system, according to Daimler eMobility manager Jim Bevan, one of four panelists presenting at "Preparing for Next Generation Multi-Voltage Electric Systems," an electrical session held today at ATA's Technology & Maintenance Council (TMC) Annual Meeting in Atlanta.
Bevan explained that 48 volts is the "sweet spot" for a hybrid system. The basic concept for such a system, Beven said, includes an electric motor/generator (in place of the alternator), energy recovery during braking and deceleration, possible "boosting," and batteries capable of high-power discharge and recharge.
Improved MPG and lower emissions aren't the only reasons behind the push for increased voltage.
"Higher power requirements are imminent," Bevan said, noting that the growing list of power-hungry systems, including automated driving features, "will drive that need for higher power."
However, while current advances in lithium-ion battery technology hold greater promise than prior chemistries there's no real sweet spot just yet in battery development for a 48-volt hybrid system for the biggest trucks on the road.
"You need some kind of battery chemistry that will be able to handle that," Bevan said.
And it's not just landing on the right battery chemistry that can live up to the demanding duty cycles in Class 8 trucks, it's the formidable task of preparing the industry for a massive electrical overhaul that while similar to the shift from 6 to 12-volt systems in vehicles decades ago, is much more complex given the impressive and component-rich advancements in electrical designs.
"Just wait until someone plugs in a 12-volt relay into a 48-volt circuit. There are going to be some real challenges," said panelist Bruce Purkey, SAE Cable Standards Committee chairman and Purkeys founder and chief creative engineer.
While technicians will still be able to use the same multimeters, Purkey said other equipment would be impacted by higher volts, such as analyzers, chargers and jump starters. He also expressed concerns for wiring design.
"Wiring diagrams. These are my favorite. Am I supposed to know by looking at this (schematic) how many volts it contains?" Purkey asked. "Are they going to be consistent as I go from one schematic to the next? Are we going to have multiple voltages in the same harness?"
Panelist Fred Kelley, director of engineering at Prestolite, said that additional SAE standards need to be created to allow for the transition to a 48-volt system. Input from OEMs and other industry stakeholders is needed, Kelley said, particularly in how to best accommodate multi voltage levels. He noted that wire color coding, labeling and cable printing can all be used to distinguish one voltage from another.
"It will be critical to add additional RPs (recommended practices). Reach out if you'd like to be involved," Kelley said.
Panelist Jeff Williams, senior power electronics engineer at Volvo Group, noted that larger voltage systems have been used successfully for years in aviation, military and European commercial vehicle applications.
"It's not new technology. There are billions of miles on this equipment," he said.
Bevan pointed out that 48-volt systems were currently being used in Mercedes S-Class cars as well as Ram pickups equipped with the company's mild eTorque feature.
Those concerned with kissing off 12-volt components need not worry in a multi-voltage system. Williams said a 48-volt arrangement will be designed to support 12-volt accessories, meaning for instance that plug configurations for trailers and other equipment will remain unchanged.
"We foresee supporting 12-volt systems forever," he said.
Williams pointed out that other benefits of higher voltages enable brighter lights, more effective braking on trailers (especially on triples) and could "facilitate active aero, gap reduction, e-PTOs, solar features, etc."
Additional components will be required in a multi-voltage system, including a battery equalizer, Williams said, to maintain the stress equally in a multi-battery configuration.
The benefits for a 48-volt system include smaller starter and wire gauge requirements given the fact that higher voltage requires less current, or amps, to support various circuits. A 48-volt system, for instance, requires one-fourth of the amps needed in a 12-volt application. The amount of copper wire used in starter windings and wire harnesses will diminish which will drive down the cost.
However, Bevan explained that the additional technology required to support a multi-voltage system (i.e., converters and equalizers) would negate those savings and actually result in a higher up-front cost. The savings, he said, would come over time through improved fuel economy thanks to the truck's hybrid capability.
Other challenges for a 48-volt system include increased corrosion problems, particularly at ground, and dramatic arcs.
"Arcs can be dangerous," Bevan said. "This is something that needs to be considered when we're designing these systems."
Corrosion concerns weighed heavily on Purkey who said that such problems would probably increase ten-fold.
"I still see butt connectors when I visit shops. How can you seal those?" Purkey asked and later added, "If your grounds aren't right, you're going to have all kinds of problems."
While no one could say for sure when 48-volt trucks would be rolling out here in the U.S., given the current state of development, Bevan felt there was plenty of time to prepare.
Purkey, however, felt otherwise.
"Don't wait until these vehicles are in your yard," he said. "Start making plans now. You can't wait until they get there."