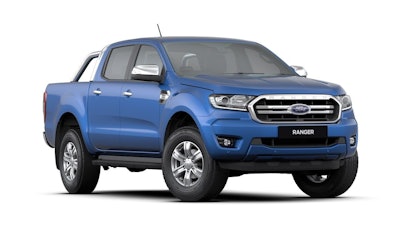 They may look similar, but under the hood, they're worlds apart.
We're talking of course about the U.S. version of the 2019 Ford Ranger versus its counterpart in Australia (pictured above).
While the diesel option is popular among Ford Ranger buyers outside of the U.S.—and, in fact, is the only engine option available in Australia—don't count on seeing one in the U.S. anytime soon.
"There are no plans to offer a diesel Ranger here," said Mike Levine, Ford North America product communications manager.
The only powerplant you can currently spec with the Ranger in the U.S. is the 2.3-liter gasser mated to Ford's 10-speed automatic.
But how things change when you look Down Under. The 2019 Ranger in Australia can be spec'd with either a 2.0-, 2.2-, or 3.2-liter diesel engine. Transmission choices include a six-speed manual or six- and ten-speed automatics.
Fuel economy is best in an Australian Ranger at 36.2 MPG combined thanks to a 2.2-liter diesel bolted to a six-speed manual with a 4×2 drivetrain. Power tops out at 158 horses and 284 lb.-ft. of torque.
Though Ford recently reported that it's recalculating fuel economy in several vehicle models, Ranger included, the midsize hauler currently rates at 23 MPG combined, but it clearly has more muscle with 270 horsepower and 310 lb.-ft. of torque.
However, impressions are interesting. Some Ranger fans out there will remember the Perkins 2.2-liter diesel that was briefly available in the U.S. for Ranger model years '83 and '84. The naturally aspirated inline four is rated 59 horsepower while torque crawls out at an anemic 90 foot-pounds which still gives cause for concern.
"It's been a great little truck. Extremely dependable, way under-powered though, but great mileage at 35mpg around town and upwards of 40mpg on the interstate. Top speed is only 65-70mph (with a stiff tail wind)," writes a forum member at ford-trucks.com.
"The 2.2-liter Perkins is better suited for industrial or agricultural use and really has no place in a truck to be honest," the writer continues. "But this engine is bullet proof and virtually trouble free (no timing belt or chain, but timing gears), except for glow plugs."
Ford moved on to a Mitsubishi 2.3-liter diesel for model years '85 and '86 which offered more power: 86 horses and 134 pound feet of torque. Good luck finding either diesel variant today.
"It is relatively rare to come across either model that has an original diesel," dieselhub.com reports. "The most profound problem with Ford's diesel-powered Rangers is the fact that finding parts can be relatively difficult, especially considering the limited number of pickups produced with the diesel option."
Still, 40mpg highway in a pickup ('83-'84 Ranger) that could haul more than 1,600 pounds is impressive. That is, if you need a midsize truck with that kind of capability. Thirty-five years ago, pickup sales were nowhere near where they are now and the diesel Ranger couldn't carve out much of niche. Now the short-lived oil burner has become a unicorn of sorts that's probably destined to keep escalating in value.
We found one diesel Ranger, an '84 model, listed at Hemmings Motor News for $7,900 with reportedly only 42,000 miles on a 2.2 Perkins. Seems like we've had better luck finding fleet-focused electric Rangers.
Clearly, the most powerful pickups are diesel-powered. But is there enough interest in midsize oil burners here in the U.S. to get Ford to offer one? Seems like they're still gun shy from those last two attempts.