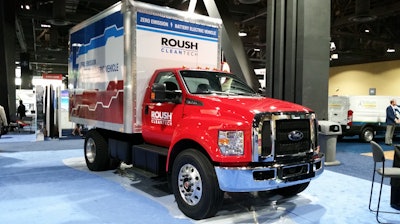 While EV share in the commercial vehicle space is still very limited, Ford's recent announcement about building all-electric F-Series trucks provided yet another reminder of how that battery-powered segment appears poised for serious growth.
Cummins, Daimler Trucks, Volvo Trucks, Peterbilt, Navistar and Volkswagen are other prominent players working on all-electric powertrains for commercial vehicles.
Perhaps some of the most noteworthy EV news came from UPS and Workhorse who last year announced a joint venture to build electric P&D vans that will cost roughly the same as a conventional vans before subsidies. Also, Roush CleanTech, known primarily for its propane and compressed natural gas technology, made a surprise entrance into the EV space last year with the unveiling of its all-electric F-650 prototype at the Advanced Clean Transportation Expo in Long Beach, Calf. (see photo above).
So while the news of all-electric trucks and vans continues to roll out, interest in charging is growing as well.
To help learn more about meeting the charging requirements of all-electric fleet vehicles, the Advanced Clean Transportation Expo will be offering its five-part EV Charging Infrastructure Workshop Series this April at the Long Beach Convention Center in Long Beach, Calif. Attendees will learn about designing a fleet's charging plan from the utility side to construction to network providers.
The workshops will take place throughout the day on Thursday, April 25: Workshop I, Planning for EV Charging Solutions in Fleet Operations (8 – 9:30 a.m.); Workshop II, Tackling Cost (10 – 11 a.m.); Workshop III, The Network (11 a.m.-noon); Workshop IV, 'Mobile' Charging (2 – 3 p.m.); Workshop V, Wireless Charging (3 p.m.-?).
ACT Expo kicks off on Monday, April 22 and runs through Friday, April 26. Besides commercial EVs, the expo will cover vehicle efficiency, urban mobility, gaseous fuels, connected fleets and the goods movement through various workshops. Meet top industry insiders and check out more than 75 advanced technology vehicles that will be on display. Sponsors include BYD, Cummins Westport, Dana, Ford, Fuso, GM, Hino Trucks, Honda, International, Kenworth, Mack, Meritor, Peterbilt, Roush CleanTech, Toyota and Volvo.