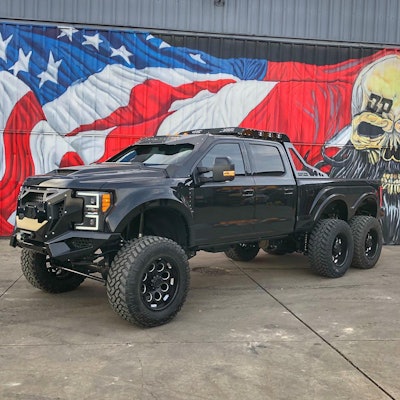 The Diesel Brothers couldn't resist making their own 6×6 pickup.
At first, the Utah-based builders started with a new, fully-loaded Super Duty F-550 equipped with a 6.7-liter Power Stroke Turbo Diesel and announced that production would be capped off at around 100 trucks. But then, as they're apt to do, they decided to take on another build.
"Looks like me and the boys at @sparks_motors are gonna have our hands full for a while…we've decided to tackle the new GM 5500 on top of the Ford 6×6 orders that we already have pending," Heavy D announced on his Facebook page.
While the Ford 6×6 has already hit the road, the Chevy 5500 6×6, powered by a 6.6-liter Duramax Turbo-Diesel, remains a rendering (shown below). Prices start at $199,000.