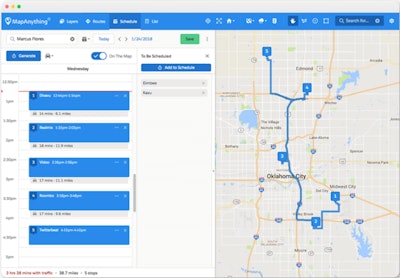 Work trucks and vans have become increasingly connected to more sophisticated data bases which can help streamline workloads and crank up sales.
One company that's been busy leveraging the latest in mobile Geographic Information Systems (GIS) technology is MapAnything. The North Carolina-based tech firm recently announced the close of a $42.5 million Series C investment that includes first-time participation from GM Ventures and Andrew Leto, with participation from existing investors Salesforce Ventures, Greycroft, Harbert Growth Partners, and David Stern.
The Location-of-Things market continues to grow. Research firm Markets and Markets predicts that it will reach $27 billion by 2022.
MapAnything currently helps roughly 2,000 BtoB companies that utilize its location-based telematics software.
"In a world where everyone and everything is connected, location-based insights open up entirely new opportunities to transform the customer experience," said Mike Rosenbaum, executive vice president of product at Salesforce. "We're excited about the continued impact MapAnything's location-based solutions, combined with the world's #1 CRM (customer relationship management), will deliver for customers."
Connecting with GM to transform sales and service
MapAnything reports that its customer-focused solutions will dovetail neatly with GM's commercial growth strategy and its ongoing success in connectivity. GM sales to commercial customers have grown by more than seven percent annually since 2012, and the company has delivered more than 11 million vehicles with built-in 4GLTE Wi-Fi hot spots.
Last month, GM surveyed some of the country's largest fleet managers, and more than 90 percent said connectivity has the biggest potential to transform their operations.
"We have seen firsthand how the most sophisticated fleet managers in the world rely on connectivity to optimize their investments in vehicles and people, and we're just starting to scratch the surface of what's possible using sophisticated tools like MapAnything," said Ed Peper, vice president of GM Fleet.
MapAnything reports that its customers are seeing their customer interactions increase by up to 25 percent, resulting in higher sales, less competitive pressures, and happier sales reps who make more money and spend less time driving to appointments.
"The ability of BtoB enterprises to derive value from location is a game changer for organizations with large mobile workforces," said John Stewart, CEO and Co-founder of MapAnything. "But historically, geographic intelligence has been limited to those with advanced analytics and GIS experience. MapAnything is democratizing location data to accelerate the productivity of mobile workers and enable customer experiences that exceed expectations."
The MapAnything platform creates location awareness within the system of work, where field sales and service activity is planned, tracked and executed. It uniquely helps enterprises automate complex business processes and make more informed decisions with a combination of a patent-pending routing and scheduling engine, integrated GPS tracking capabilities, and an intuitive location-based visual layer.
The company reports that it will use the funding to expand its reach in key markets, broaden the vibrant MapAnything developer community, and deepen relationships with strategic partners. Additionally, the company will increase its R&D efforts to capitalize on new market opportunities and technology advancements.