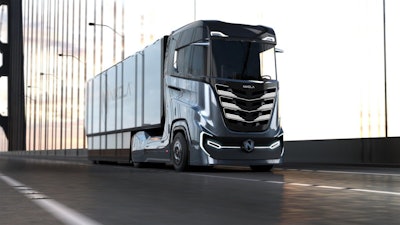 With still more than a year until Nikola Motor Company begins to ramp up production on its hydrogen-electric tractor, the company has already set its sights on the European market with a third iteration.
The Nikola Tre – third in a truck lineup that includes the aptly named Nikola One and Nikola Two – features between 500 and 1,000 horsepower in 6×4 or 6×2 configuration and a range of nearly 750 miles depending on options.
"This truck is a real stunner and long overdue for Europe," says Nikola Motor Company Founder and CEO Trevor Milton. "It will be the first European zero-emission commercial truck to be delivered with redundant braking, redundant steering, redundant 800Vdc batteries and a redundant 120 kW hydrogen fuel cell, all necessary for true Level 5 autonomy."
Milton says he expects production of Tre models to coincide with full production of U.S. models "in 2022-2023." European testing is set to begin in Norway around 2020. Nikola is currently working with Oslo, Norway-based Nel Hydrogen to construct hydrogen stations for the U.S. market and says it will will work with them to secure resources for its European growth strategy.
"We have a lot of work ahead of us, but with the right partners, we can accomplish it," adds Kim Brady, Nikola Motor Company CFO.
Guests at the April 16-17 Nikola World in Phoenix will be able to view a prototype display of the Nikola Tre, along with other new zero-emission products from Nikola including the production intent Nikola Two Class 8 daycab tractor.
Reservations for the Nikola Tre are now open online.
To date, the company says it has approximately $11 billion in pre-order reservations.