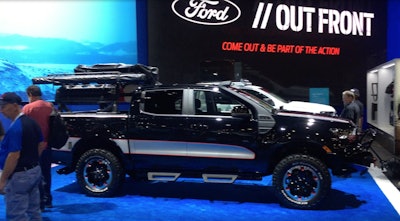 Yesterday we brought you the first four 2019 Rangers displayed by Ford at SEMA. Today we're posting the remaining four trucks which focus on plenty of outdoor and indoor fun (scroll down to the third Ranger to see what we mean).
At the bottom of the page we've added pictures of Ford accessories for the 2019 Ranger as well as a shot of the only available engine for model-year 2019, a 2.3-liter I4 EcoBoost engine. John Hennessey told us at SEMA that his shop in Texas will be working with this little 2.3 when building the Ranger VelociRaptor.
"We just have to get a truck and see how much power we can get out of it," Hennessey said. "I don't know how much power we can give that little motor."
As it stands, the stock 2.3 EcoBoost delivers 270 horses and 310 lb.ft. of torque. Max towing and payload is rated at 7,500 and 1,860 pounds respectively. With numbers like that Ford's taken the lead of the midsize gasser segment.