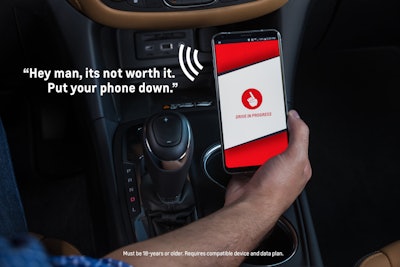 Chevrolet is launching a new smartphone app called Call Me Out to help remind new and experienced drivers to keep their eyes on the road and put their phones down while driving.
According to a recent Research Now survey, 84 percent of people admit that distracted driving while handling a phone is dangerous, yet 90 percent of drivers have done it. Driven to change the behavior and the conversation, Chevrolet hosted a hackathon where teams of young people were challenged to propose ways to reduce distracted driving. The framework for the Call Me Out app was born from the effort.
The smartphone app is designed to leverage the positive influence of peer pressure on behavior.
Users are encouraged to invite friends and family to "call me out" and record a positive message to remind one another to keep their hands off their phones and on the wheel.
"As the father of two daughters, I am keenly aware of all the perils that my children face out in the world on a daily basis, and that is why it is so important for GM and Chevrolet to offer technologies that help all of us become safer drivers," said Alan Batey, president of GM North America and head of Global Chevrolet. "With Call Me Out we are extending our commitment beyond the technologies integrated into GM and Chevy vehicles and are making the app available for Android phone users who drive other vehicle makes and models in an effort to help people change their driving behavior and make our roads safer."
How it works:
Call Me Out is an audible alert system that uses the voices of loved ones to help drivers fight the urge to engage in risky distracted driving behavior.
Android phone users can download the free app from the Google Play Store (data plan required).
The app uses the phone's accelerometer and GPS to detect when the phone is physically picked up while traveling at speeds above 5 mph and plays recorded, personalized messages from friends or family reminding drivers to keep their eyes on the road and their phones down.
The app also includes gamification, featuring a scoreboard and rankings. The less a phone is handled while driving, the higher the score on the leaderboard.
"Today's vehicles offer a range of active safety features like Lane Keep Assist and Forward Automatic Braking that help drivers stay more aware of their surroundings," said Tricia Morrow, Chevy safety engineer. "But we also know the vehicle is only one element.
"Chevy's Call Me Out app gives drivers another great tool to reinforce good driving behaviors — and as a mom of a teenage daughter, I personally know how important it is to model good driving behaviors and encourage others to do the same."
Call me Out stemmed from a hackathon hosted by Chevrolet where hackers were challenged to develop a personalized solution to reduce distracted driving.
Prior to launch Chevy partnered with students at Wayne State University in Detroit to test the app's effectiveness and concept of leveraging the positive influence of peer pressure.