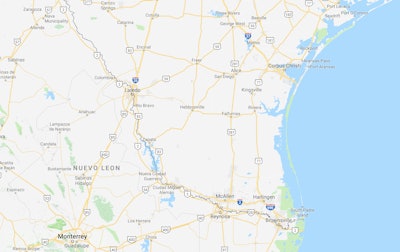 A reefer truck filled with nearly 50 illegal aliens tried fleeing from U.S. Border Patrol agents in Texas by hitting the highway.
The chase began shortly after a U.S. Customs and Border Protection (CBP) service dog alerted on the 2017 Freightliner tractor-trailer Sunday at the Border Patrol Checkpoint on Interstate 35 in Laredo. However, instead of hanging around for a secondary inspection, the truck sped off.
Agents followed and eventually convinced the driver to pull over at mile-marker 30 on I-35. Inside the back of the trailer agents found 47 undocumented aliens, according to a CBP press release.
The male driver and female passenger, both U.S. citizens, were arrested along with the illegal aliens who hailed from Brazil, El Salvador, Guatemala, Honduras, Mexico and Peru. None of those arrested required medical attention.
The vehicle was seized and the case was referred to Homeland Security Investigations.
To report suspicious activity such as drug and/or alien smuggling, download the "USBP Laredo Sector" App or contact the Laredo Sector Border Patrol toll-free telephone number at 1-800-343-1994.
Sunday's arrests came after agents found 10 illegal aliens hiding inside a tractor-trailer at the Falfurrias Checkpoint on Thursday about 90 miles east of Laredo on Highway 281.
A service dog had alerted to the truck which was referred to a secondary inspection where the undocumented passengers were discovered and arrested along with the truck's driver, a U.S. citizen.
The Rio Grande Valley Sector currently has multiple campaigns focused on rescues and danger awareness, such as "Operation Big Rig" and "No Se Arriesgue" to combat smuggling and ultimately save lives. Call 911 to report suspicious activity.