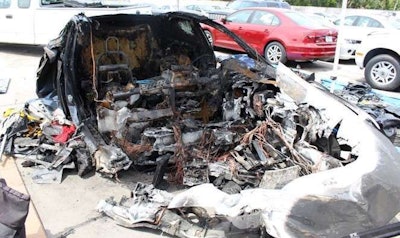 The battery pack of a Tesla that had caught fire in a fatal accident in South Florida last month reignited at least twice after firefighters had first extinguished the pack, according to the National Traffic Safety Board.
The May 8 crash in Ft. Lauderdale claimed the lives of two 18-year-old high school students and left a third 18-year-old hospitalized.
The NTSB reports that the 2014 Model S was traveling 116 mph in a 25mph zone when it crashed and caught fire. The passenger who survived had been thrown from the rear of the car while the other two occupants were trapped inside the front of the vehicle as it burned with their seat belts on and the air bags deployed.
"The Fort Lauderdale Fire and Rescue Department arrived at the crash scene and found the Tesla fully engulfed in flames," NTSB writes in its brief report. "They extinguished the vehicle fire using 200–300 gallons of water and foam."
However, the lithium-ion battery reignited two times later.
"During the loading of the car for removal from the scene, the battery reignited and was quickly extinguished. Upon arrival at the storage yard, the battery reignited again," NTSB continued. "A local fire department responded to the storage yard and extinguished the fire."
In another preliminary report regarding the fiery crash of a Tesla Model X in Mountain View, Calif. in March, the NTSB reported that the vehicle's battery, thought to have been extinguished after catching fire, reignited five days later at an impound yard.
Last week, a video that went viral shows the battery of Tesla Model S burning on a major street in Los Angeles. The car had reportedly not been involved in an accident prior to the blaze. The NTSB said that it would be examining the car.