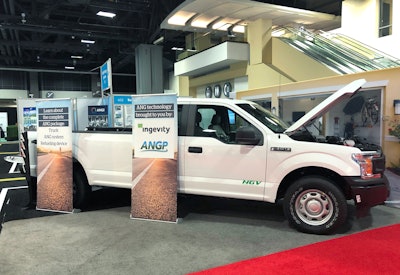 A 2018 Ford F-150 has become the first truck equipped with a low-pressure adsorbed natural gas (ANG) system that can be fueled at home.
Ingevity and coalition partner Adsorbed Natural Gas Products revealed the bi-fuel truck today at the World Gas Conference in Washington, D.C.
"Our Nuchar activated carbon makes this ANG application possible due to its superior ability to consistently capture, store and release hydrocarbon vapors," said David Newton, director of adsorbed natural gas at Ingevity. "Low-pressure fuel storage enables safe, reliable and economic refueling of the vehicle at home, and leverages the existing gas infrastructure already available in nearly 60 million homes and 5 million businesses throughout the United States."
Made of a lightweight aluminum, the ANG storage cylinders are located in the bed of the truck and contain Ingevity's Nuchar FuelSorb carbon monoliths, which allow for low-pressure onboard ANG fuel storage. This bi-fuel truck is the coalition's third iteration of an ANG-fueled vehicle, whose features significantly increase cargo space in the truck bed compared to previous versions.
ANG technology recently won the 2018 World Gas Conference's Innovation Award in the "Transportation Driven by Natural Gas" category.
"Bi-fuel ANG technology also allows users to capture the fuel savings of natural gas and a lower total operating cost as compared to a mono-fuel gasoline engine," said Ed Woodcock, executive vice president and president of Performance Materials at Ingevity. "This vehicle will enable our teams to explore and form partnerships with local gas utilities, distribution networks, vehicle manufacturers and component suppliers in order to drive the commercialization of ANG technology and understand its value to consumers."