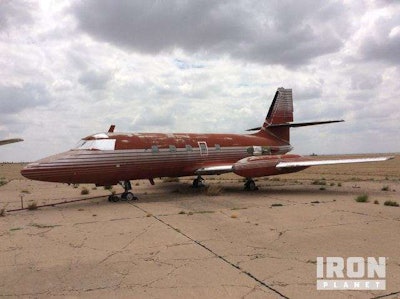 Though Ritchie Bros. is largely known the world-over for their truck and equipment auctions, they've recently gained global attention for a special consignment that's sure to command a hefty price: a custom jet plane that once belonged to Elvis Presley.
The 1962 Lockheed Jet Star may be missing its engines and some cockpit components, but it's still got plenty of Elvis charm, including plush, red seats and matching couch, thick red carpet, a TV and a sound system that was undoubtedly state-of-the-art for its time.
As you'll see in the pictures below, the plane needs some TLC. More photos are posted at IronPlanet, a Ritchie Bros. marketplace. Here's the description:
Custom private jet personally owned by Elvis Presley, the late American singer, complete with red velvet seats, gold plated accents, and red plush carpet. Elvis's Jet has been privately owned for more than 35 years, becoming a tourist attraction where it sat on a runway in Roswell, New Mexico in the US. The jet is the only one of the three planes belonging to Elvis Presley, which is still privately owned, while the other two are owned by the Graceland estate in Memphis, Tennessee.
All FAA documents & invoices showing previous ownership by Elvis Presley are included. Seller Comments: Year of manufacture is 1962. Missing items: Engines & cockpit components.