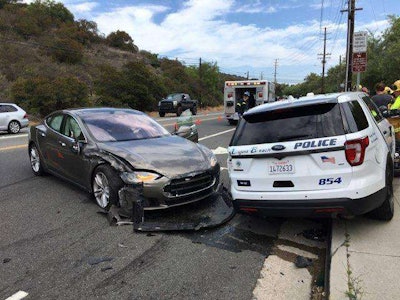 Another Tesla reportedly on Autopilot has struck a first responder's vehicle yet again.
This time it was a police vehicle in Laguna Beach, Calif. that was struck by wayward Model S. The driver had minor injuries. No officers were hurt. The Ford Explorer was parked at the time of Tuesday's collision. Autopilot had been activated, police reported on their Facebook page.
This is the third time this year that a Tesla—while on Autopilot—has crashed into a first responder's vehicle.
About two weeks ago in South Jordan, Utah, a Tesla driver admitted to being on her cell phone and relying on Autopilot when she slammed into the back of a fire truck at roughly 60mph. Both drivers sustained minor injuries.
A similar accident occurred earlier this year in January in California when a Model S traveling at 65 mph crashed into the back of a fire truck that had come to a stop on a crowded freeway just south of Los Angeles. No one was seriously injured.