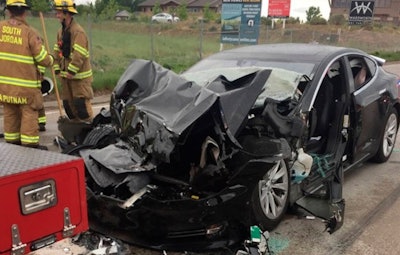 Police in Utah reported today that the Tesla driver who crashed into the back of a fire truck in South Jordan on Friday admitted to using Autopilot and being on her phone at the time of the collision.
Police say that the 28-year-old driver in the Model S had been driving around 60 mph on State Road 154 when she slammed into the back of a Unified Fire Authority mechanic truck that had stopped at a red light. Both drivers sustained minor injuries.
"The driver of the Tesla Model S (28-year-old female from Lehi, Utah) was subsequently interviewed by the South Jordan Police and said that she had been using the Autopilot feature in the Tesla," police stated in a press release. "While Tesla's Autopilot feature indicates that a driver must be attentive at all times, the driver admitted that she was looking at her phone prior to the collision."
Witnesses told police that the driver of the Tesla, who has not been identified, made no attempt to stop or steer clear of the truck.
South Jordan police are currently working with Tesla technicians to gather and review the car's data which may take several days.
The Tesla driver was taken to a local hospital with a broken right foot. The driver of the fire truck was checked for injuries related to whiplash, but was not taken to a hospital.
"As a reminder for drivers of semi-autonomous vehicles, it is the driver's responsibility to stay alert, drive safely, and be in control of the vehicle at all times," police reported. "Tesla makes it clear that drivers should always watch the road in front of them and be prepared to take corrective actions. Failure to do so can result in serious injury or death."
Though the Model S is equipped with automated emergency braking, or AEB, it's unclear why the car made no attempt to stop prior to slamming into the truck.
A similar accident occurred earlier this year in January in California when a Model S traveling at 65 mph slammed into the back of a fire truck that had come to a stop on a crowded freeway just south of Los Angeles. Just as with Friday's crash in Utah, Autopilot had been engaged at the time and AEB made no attempt to brake the car prior to impact. However, it's unclear if either car was equipped with full-speed AEB functionality. Tesla released full-speed AEB updates last year.