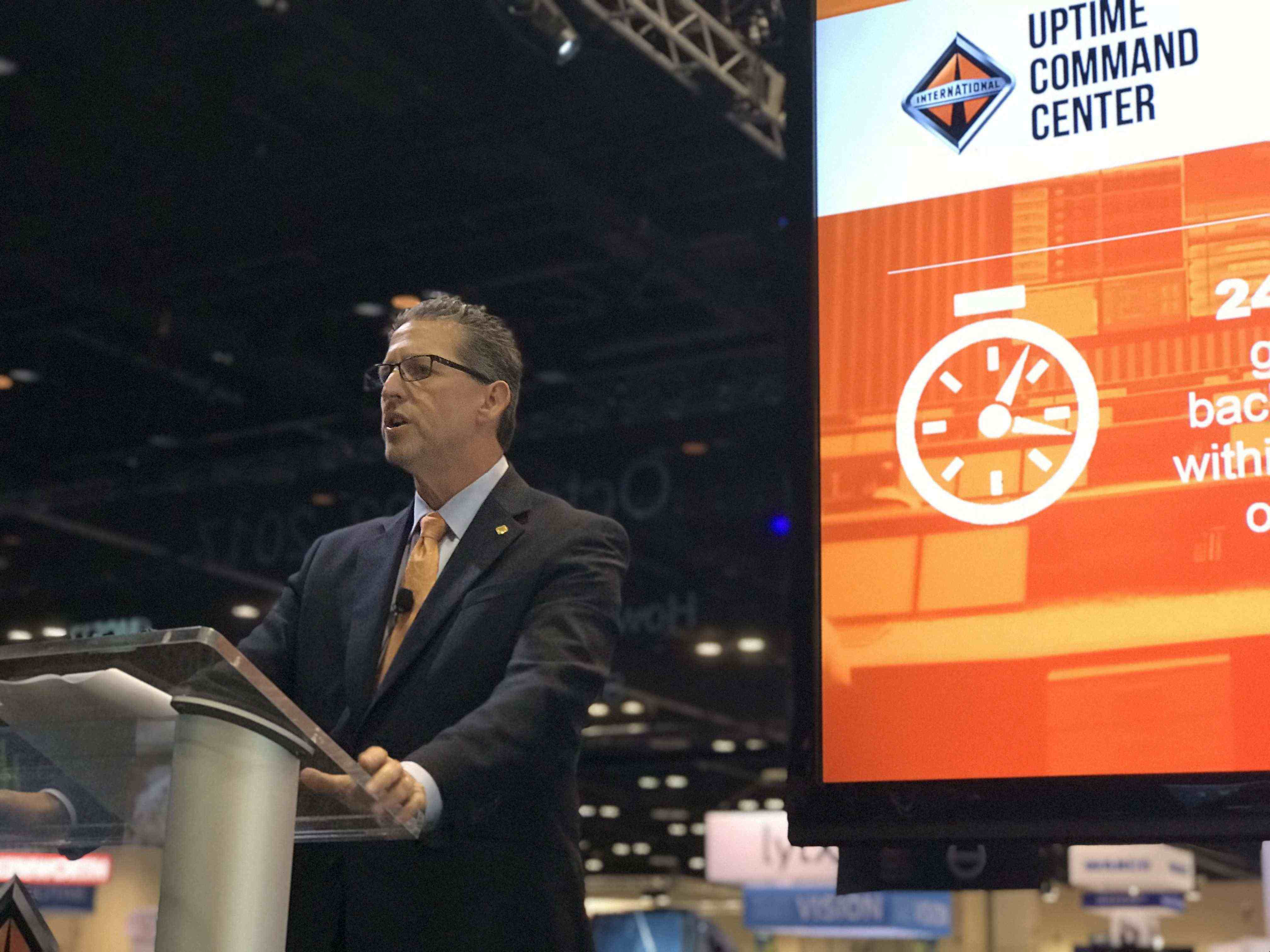 With its new Uptime Command Center 24/7-onproad support program, Navistar aims to improve customer productivity with the promise of completed repairs within 48 hours after diagnosing a problem for OnCommand Connection-enabled vehicles.
"We are separating ourselves from the industry's reactive approach to maintenance with the establishment of a new paradigm, one that's proactive, predictive and collaborative," said Michael Cancelliere, Navistar's president, Truck and Parts, during a press briefing at the American Trucking Association's 2017 Management Conference & Exhibition.
The Uptime Command Center relies on Navistar's OnCommand Connection telematics network to monitor vehicle health. Cancelliere said OnCommand Connection now is equipped on 325,000 International trucks and has lowered unplanned maintenance events by 30 percent.
Currently in pilot phase, OnCommand Connection's new Live Action Plans feature can predict when a part is going to fail and alerts the customer about potential corrective actions including repair, parts requirements and repair training. Navistar said it will pay for repairs of parts before they fail on warrantied vehicles. "As we said when we announced the Live Action Plans, the best way to eliminate downtime is not to have it in the first place," said Cancelliere.
Uptime Command Center also includes a new 24/7 parts and service availability in the International dealer network, including expediting parts delivery from one of the company's parts distribution centers to the dealer. The new Accelerator Write-Up Tool, an Android mobile application, expedites service visits by streamlining the write-up and diagnostic process and providing clear action plans for service technicians.
"The Uptime Command Center is taking customer service and support to the next level, reflecting our passion to deliver uptime for all our customers," Cancelliere said. "It reflects our steady progress in evolving to a proactive, predictive and collaborative maintenance model."
In other news, Navistar announced a 2 percent price increase on all 2019-model-year trucks as commodity prices rise due to increased demand. Cancelliere said Navistar forecasts an improving Class 8 market, adding Navistar's market share has increased 1.4 percent in 2017.
Note: This article by Jeff Crissey, editor of Commercial Carrier Journal, a Randall-Reilly partner publication of Hard Working Trucks.