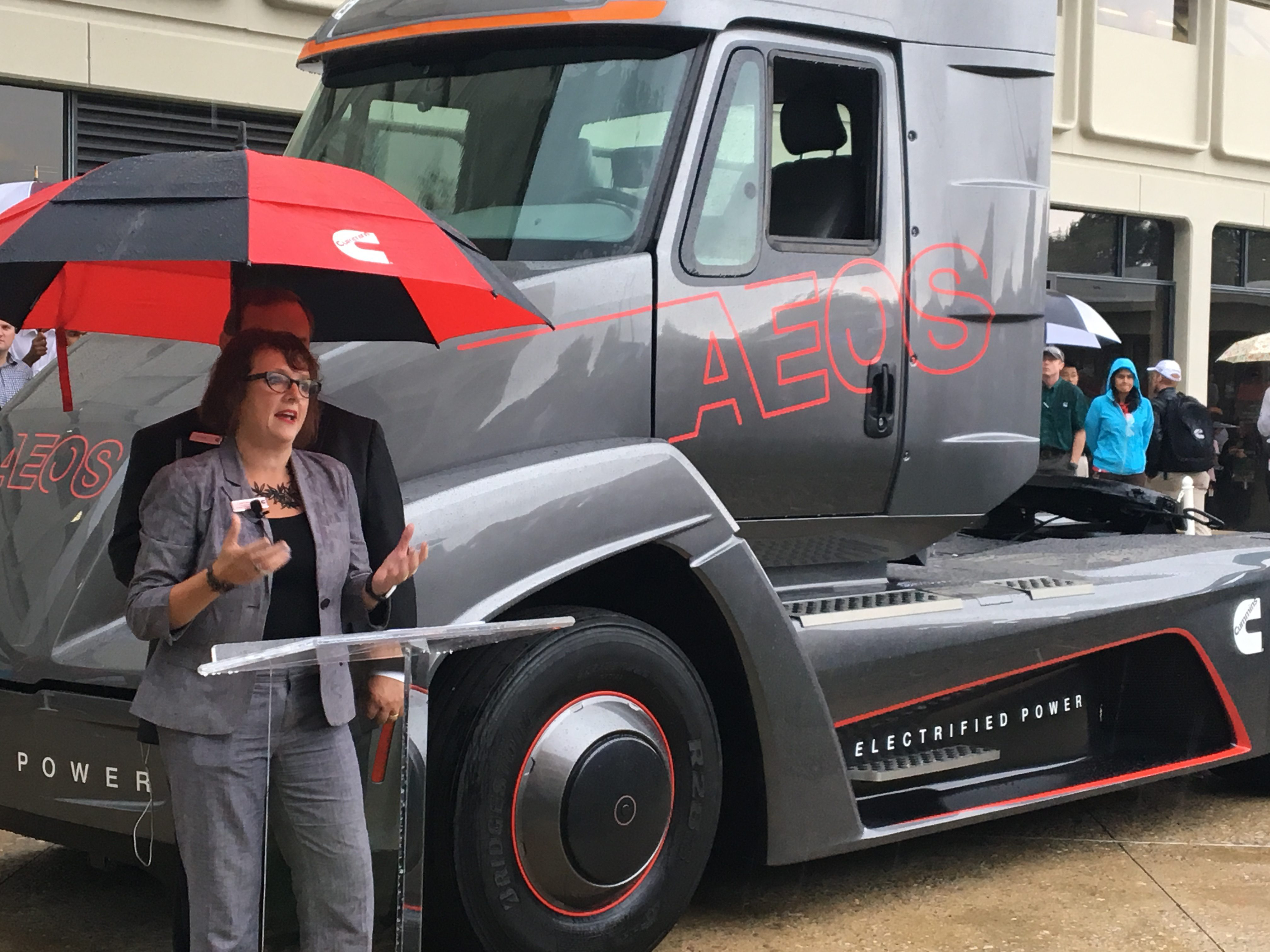 Tesla may steal all the headlines but Cummins on Tuesday stole some of the Silicon Valley automaker's thunder with the debut of its electric powertrain concept tractor.
The Aeos Electric Commercial Vehicle Demonstrator, designed and built in collaboration with Roush, features a state-of-the art battery pack that is lighter and more dense, allowing it to hold a longer charge for improved range and faster charging.
"The charging is a simple plug-in which can return the [140 kilowatt hour battery pack] to sufficient charge in about an hour," says Cummins' Electrification Business Development Executive Director Julie Furber, who adds she believes charging time can be reduced to as little as 20 minutes by the year 2020. The tractor also re-collects free energy from a regenerative brake system and by driving. To conserve energy, the powertrain movement stops anytime the vehicle stops and the truck is also equipped to import energy from solar panels mounted on a trailer roof.
Aeos – named after one of four winged horses who drive the chariot of the Sun God from Greek mythology – gets the diesel equivalent of more than 30 miles per gallon with a range of 100 miles on a single charge. That can be extended extended to 300 miles with an additional battery pack.
A technology demonstrator for vocational applications, urban delivery operations, port drayage and terminal container handling, Furber says the truck will soon be placed in the hands of partner customers for field trials.
"It won't just be standing around looking good," she says. Cummins also plans to use the Class 7 truck as a test vehicle for the electrification of components.

The truck is weight-neutral when compared to an equivalent diesel powertrain and features a maximum GVWR of 75,000 pounds with a payload capacity of 44,000 pounds. AEOS accelerates up to 35 percent faster than a 11 to 12-liter powered equivalent vehicle.
Peak torque is 2,507 lb.-ft. with a constant torque of 1,364 lb.-ft., with a peak power of 469 HP.
The concept truck's design includes an engine-generator option for extended range capabilities, allowing the use of Cummins B4.5 or B6.7 engine. These engine options offer 50 percent fuel savings, Cummins says, compared to today's diesel hybrids with zero emissions. Srikanth Padmanabhan, president of Cummins engine business, says in the next 20 years, he believes the range extender could be replaced by a fuel cell.
Padmanabhan says the engine-maker has been working on electrified power for more than 20 years, but adds says Cummins will only put its efforts into electrified initiatives that make sense and the company has no interesting in chasing the technology just to prove it can be done.
Furber says she expects electric regional haul trucks will be viable soon, but line haul – specifically hindered by payload sapping battery weight that will require a lengthy charge – are "a number of years away."
"Electric power is becoming economically viable in some of our markets with the right duty cycle and the right drive cycle," Furber adds.
Padmanabhan estimates that a fill time of 5 minutes for a tank of diesel fuel could translate to upwards of 400 minutes to charge a long-haul battery.
Aeos features a drag-reducing aerodynamic exterior design and uses low rolling resistance tires utilize less energy. Side mirrors have been replaced with an in-dash camera view. The driver interface includes two additional gauges in the dash; one that displays the electric power level and another featuring the battery pack's state of charge (0%-100%).
The concept truck also uses Cummins' real-time connectivity with over-the-air diagnostics, freight logistical information and platooning capability. It is also equipped with a lane keeping feature and its shorter front end and steep sloping hood significantly increases front visibility.