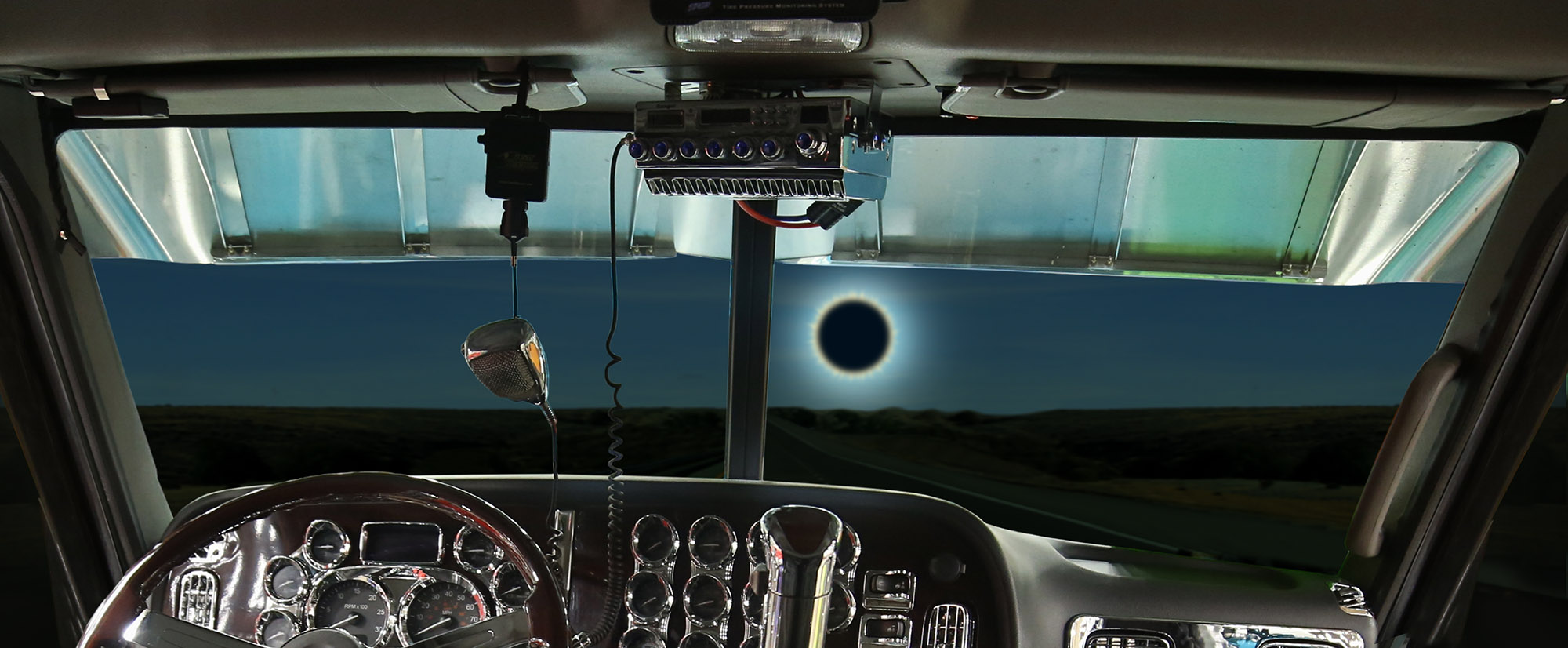 With the first total solar eclipse visible to the continental United States in nearly 40 years happening on Monday, Aug. 21, several states in the path of the total eclipse have issued restrictions to truck drivers. The U.S. DOT has also issued warnings and tips for all drivers, including truck operators.
The eclipse will be visible in every state of the contiguous U.S., but at least portions of 14 states will see a total eclipse, where the moon will fully block out the sun for nearly three minutes in the middle of the day.
According to NASA, the first point of contact will be at Lincoln Beach, Ore., just after 9 a.m. Pacific. Over the next hour-and-a-half, the eclipse will cross through Oregon, Idaho, Wyoming, Montana, Nebraska, Iowa, Kansas, Missouri, Illinois, Kentucky, Tennessee, Georgia, North Carolina and South Carolina.
The Federal Highway Administration is offering a number of tips for drivers who will be on the road during the event:
Don't stop along the interstate or park on the shoulder
Exit the highway to a safe location to view the eclipse
Don't take photographs while driving
Don't wear eclipse glasses while driving
Turn your headlights on
Watch for pedestrians on smaller roads
Prepare for extra congestion the day before, the day of and the day after in states in the path of the eclipse
Avoid travel in the area of the main path, if possible
Wow Wednesday! #Eclipse2017 is coming Monday! See the affected interstates in the path of the total eclipse: https://t.co/fDNQxRpwbS pic.twitter.com/nPYprG5aAS

— Federal Highway Admn (@USDOTFHWA) August 16, 2017
In addition to the FHWA's tips, Oregon, Idaho, Wyoming, Nebraska and Colorado are placing restrictions on oversize/overweight loads in the days around the eclipse.
The Oregon Department of Transportation has stated no over-width loads will be allowed to operate in the state between noon on Friday, Aug. 18 and 12:01 a.m. on Tuesday, Aug. 22. Other over-dimensional loads with permits, including triples, will still be allowed. ODOT also says some scale locations may not be available for use by truckers during the event.
The Idaho Division of Motor Vehicles is also restricting large loads, implementing a "holiday protocol. Starting Sunday, Aug. 20 at 4 p.m. and ending at dawn Aug. 22, loads exceeding 10-feet wide, 100-feet long or 14-feet, 6-inches tall may not travel on interstate or state highways south of Lewiston.
In Wyoming, the Wyoming Highway Patrol will not issue any oversize/overweight permits on Aug. 20-22 to help with traffic flow.
The Nebraska DOT is not allowing oversize loads to travel in the state from sundown on Friday, Aug. 18 until sunrise on Tuesday, Aug. 22.
Colorado transportation officials are also restricting all oversize/overweight travel north of Highway 50 from Kansas to Utah, beginning at sundown on Thursday, Aug. 17, and continuing through sunrise on Wednesday, Aug. 23.