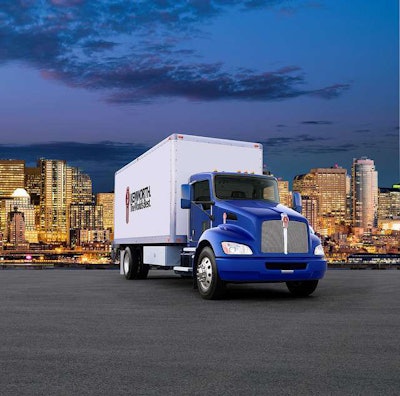 Kenworth is rolling out a cargo van lease program in the U.S. for fleets and truck operators that purchase Kenworth T270 Class 6 conventional models in a cargo van specification equipped with a 26-foot Morgan van body and a liftgate.
The Kenworth program offers a 60-month term on a fair market value (FMV) lease with monthly payments of $885. The Kenworth T270 cargo van lease specification includes the PACCAR PX-7 engine and an Allison automatic transmission.
Kenworth Marketing Director Kurt Swihart says the program is designed for customers who prefer to lease rather than purchase new Kenworth trucks, enabling those customers to focus on their core business.
"With its excellent visibility, aluminum cab and 55-degree turning angle, the T270 is an ideal truck for pickup and delivery operations, such as furniture delivery, food logistics, and beverage haulers," he says.