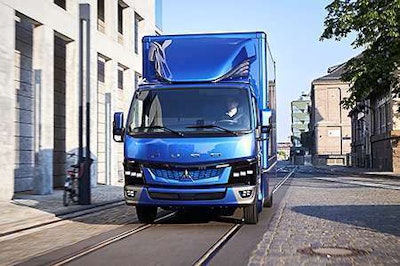 Marc Llistosella, president & CEO of Mitsubishi Fuso Truck & Bus Corporation, describes production requirements of the new eCanter to Marcelo Rebelo de Sousa, president of the Portuguese Republic.
Mitsubishi Fuso Truck announced Monday the company has begun production of the world's first all‑electric light medium-duty truck, fulfilling the self-imposed timeline the company announced at the Work Truck Show in Indianapolis earlier this year.
The truck will make its global debut in the U.S. in just a few weeks.
"We will mark the global launch of this truck in New York, one of the world's most iconic Mega-Cities, this September," Mitsubishi Fuso Truck President and CEO Marc Llistosella says, noting the company has already received the first customer orders.
Production of the Fuso eCanter kicked off at the company's 1.7 million square feet plant in Tramagal, Portugal, where all eCanter trucks for European and U.S. markets will be produced in line with the conventional Fuso diesel trucks.
The eCanter has a range of 60 to 100 miles and a load capacity of up to three tons, depending on body and usage. The vehicle's electric powertrain contains six high-voltage lithium ion battery packs, rated 420V and 13.8kWh each.
In comparison with a conventional diesel truck, Fuso says the eCanter offers savings up to $1,890 per 10,000 miles on operating costs, while also slashing carbon emissions.