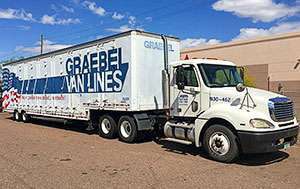 Graebel Van Lines, one of the nation's largest privately-owned moving companies, has shut down operations and is selling more than 850 of its trucks and trailers at Ritchie Bros. unreserved public auctions across the country in 2017.
Every item will be sold without minimum bids or reserve prices.
"This is a unique opportunity—we don't often see this many moving trucks and trailers coming to market at once, especially from a company as well-known as Graebel," said Chris Holmberg, sales director, Ritchie Bros. "To help interested buyers across the country, we have sent the assets to various locations across the country. You can check out the complete selection on our website at rbauction.com."
Graebel Van Lines' trucks and trailers will be sold in the following upcoming auctions:
Atlanta, GA on June 13
Columbus, OH on June 15
Denver, CO on June 1
Houston, TX on June 21 – 22
Kansas City, MO on June 23
Minneapolis, MN on June 28
Nashville, TN on June 22
North East, MD on June 6
North Franklin, CT on July 14
Phoenix, AZ on June 20
Sacramento, CA on June 6
Louis, MO on June 29
For more information about the Graebel Van Lines equipment, please visit rbauction.com, search current inventory and type 'Graebel' into the keyword field.