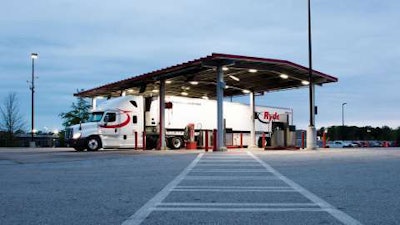 Ryder System announced today that it's now offering its customers renewable diesel (RD) at its San Francisco, Calif. fueling facility.
Ryder, a leader in commercial fleet management, dedicated transportation, and supply chain solutions, said the alternative fuel will make it easier for customers to meet sustainability goals and reduce greenhouse gas emissions.
"Our decision to use 100 percent RD is based upon our ongoing commitment to ensuring we are delivering solutions that help our customers reduce greenhouse gas emissions," said Chris Nordh, Ryder Director for Global Fuel Products. "This offering is the latest effort in helping to address the unique needs of our customers and allows for them to take advantage of the environmental benefits of a reliable renewable fuel source."
Neste, the world's largest producer of renewable diesel, reports that its fuel can reduce greenhouse gas emissions by up to 80 percent when compared to conventional diesel.
Renewable diesel is derived from plant and animal feedstocks. It is colorless, odorless, has no blending limit, is suitable for cold climates and has a high cetane value of 75 to 95 (depending on feedstock sources).
"Not to be confused with biodiesel, RD goes through a hydrotreating process instead of a transesterification process through which an ASTM D975 compliant diesel product is created," Nordh said. "Therefore, offering a better solution for fuel filters, elastomer seals and components and storage tanks."
Based on production levels and availability of renewable diesel, Ryder will continue to monitor other markets with plans for expanding this offering. The company also plans to continually analyze market opportunities that would benefit its customers to have RD available for their fleets, either through Ryder's fueling facilities or its new mobile fueling solution that provides fuel deliveries directly into vehicles parked on customer sites. This mobile service is now available through Ryder both in the U.S. and Canada.
San Francisco applauds Ryder's decision to offer its customers renewable diesel.
"Cities must work with the private sector to reduce carbon pollution by transforming the energy we use to move people and goods. Renewable diesel is an excellent transition fuel as we move toward our zero-emission vehicle future powered by 100 percent renewable energy or biofuels," said Debbie Raphael, director of San Francisco's Department of the Environment.
"By making the switch to renewable diesel, Ryder's leadership is expected to reduce greenhouse gas emissions by approximately 1,028 metric tons per year using current fuel volumes, improving air quality for everyone in the Bay Area," Raphael added.
Ryder's other advanced vehicle technologies in commercial truck applications includes its natural gas vehicle (NGV) and maintenance solutions offering. Ryder currently has more than 100 million miles of NGV operation, 22 NGV maintenance facilities including two NGV fueling facilities in Orange and Fontana, Calif., and more than 6,200 NGV trained maintenance and support personnel across the company's North American service network.
Ryder reports that it's continually monitoring emerging fleet technologies and is working closely with technology providers and equipment manufacturers to build innovative features to provide feedback around functionality, usability and adaptability.
Ryder has an established North American maintenance and fueling network with approximately 800 maintenance facilities including 440 diesel fueling stations. Ryder purchases over 275 million gallons of diesel fuel each year and provides other fuel services such as mobile fueling, fuel planning, fuel tax reporting, centralized billing, fuel cards and fuel monitoring.
For more information about Ryder's fuel services, visit http://www.ryder.com/solutions/fleet-leasing/fuel-services.