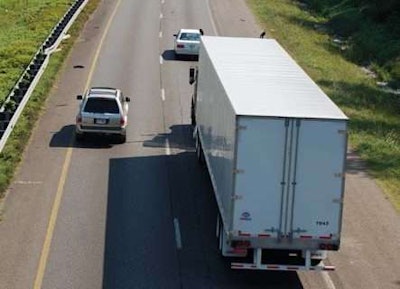 The Environmental Protection Agency hinted in a court document filed in late April that it may alter or delay fast-approaching emissions regulations scheduled to apply to model-year 2018 trailers. The so-called Phase 2 emissions regulations, published last year, call on truck, engine and trailer makers to make significant gains in boosting the fuel economy of tractor-trailers as a means to reduce emissions of greenhouse gases.
EPA, facing a lawsuit from the Truck and Trailer Manufacturers Association over the trailer-specific portion of the Phase 2 rule, filed in late April a court motion to have the lawsuit stalled for 90 days. It argued the agency "could decide to conduct further rulemaking or undertake other actions that could obviate the need for judicial resolution of some or all of the issues raised by" TTMA's lawsuit.
EPA did not respond to a request for the agency to clarify its intentions for the trailer-specific emissions regulations and what it means by "further rulemaking or…other actions," or whether it plans to consider revising other portions of the rule, such as those pertaining to tractors and engines.
Under Trump, EPA has already announced plans to revise fuel economy standards and emissions regs relating to light-duty and passenger vehicles, as well as roll backs to emissions regulations for power plants enacted by the Obama administration. The Trump administration has announced no plans to review or alter heavy-duty vehicle emissions standards.
A three-judge panel overseeing TTMA's lawsuit on May 8 granted the EPA's request for a 90-day stay of the litigation. Proceedings in the lawsuit are set to resume July 20, barring changes by the EPA to the trailer emissions component of the Phase 2 rule. The case is being heard by a federal appellate court in the District of Columbia circuit.
TTMA President Jeff Sims says his group is also pursuing a 90-day extension of the deadline for the emissions regulations, given that the court has delayed the lawsuit's proceedings. The court, however, denied TTMA's request in the same order that stalls the lawsuit.
Sims says his group's lawsuit seeks to revert efforts to boost trailer aerodynamics to a voluntary basis status, as was the case with the EPA's SmartWay program.
Phase 2 emissions standards do not dictate how equipment makers, like trailer manufacturers, should meet the more restrictive emissions rules. Instead, they require only percentage-based improvements in fuel economy and greenhouse gas emissions. Hurdles are scheduled to be phased in over 10 years, culminating in tractor-trailer-wide standards in 2027.
EPA, along with DOT's National Highway Traffic Safety Administration, require model-year 2027 tractor-trailers to achieve up roughly 25 percent lower CO2 emissions and fuel consumption versus an equivalent model year 2018 rig.
The standards for the first time set emissions benchmarks for trailers. The standards begin with year-model 2018 trailers. Trailer manufacturers likely will use aerodynamic add-ons, lightweighting and low-rolling-resistance tires, among other tactics, to meet the Phase 2 restrictions.