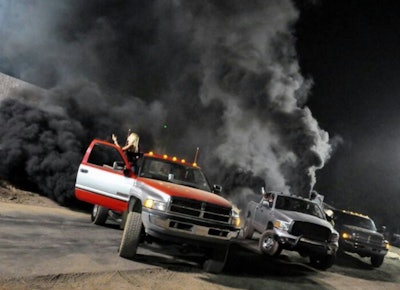 Colorado is one signature away from banning the controversial practice of rolling coal.
SB 278, which failed to pass earlier this year over concerns that it would unfairly target the agricultural industry, got through the senate and house this past week and was headed to Governor John Hickenlooper who's expected to sign the bill into law.
SB 278 calls for fining drivers $100 for "knowingly blowing" dark exhaust. Here's the summary for "Prohibit Nuisance Exhibition Motor Vehicle Exhaust," posted by the Colorado General Assembly:
"The bill prohibits engaging in a nuisance exhibition of motor vehicle exhaust, which is the act of knowingly blowing black smoke through one or more exhaust pipes attached to a motor vehicle with a gross vehicle weight rating of 14,000 pounds or less in a manner that obstructs or obscures the view of another driver, a bicyclist, or a pedestrian. A person who violates the prohibition commits a class A traffic infraction, punishable by a fine of $100."
Earlier this year, Idaho failed to pass a similar measure. In a narrow 16-18 vote in March, the state senate nixed the bill saying that law enforcement officers already have the authority to address the issue.