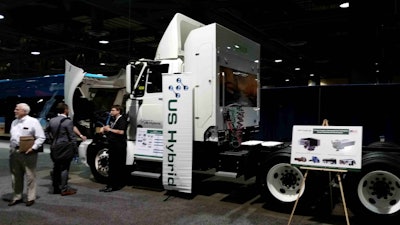 Hydrogen fuel cell technology continues to make big news at ACT Expo this week as US Hybrid unveiled a zero-emission Class 8 fuel cell drayage truck and announced a fuel cell production venture with Chinese manufacturer Jiangsu Dewei Advanced Materials Company.
The fuel cell truck, a Navistar International ProStar day cab which will be operated by Total Transportation Solutions (TTSI), is one of two demonstration tractors scheduled for delivery at the Ports of Los Angeles and Long Beach.
"TTSI is excited to lead the demonstration of zero-emission fuel cell technology for port drayage in the San Pedro Ports," said Vic LaRosa, TTSI CEO and president.
US Hybrid's 80kW PEM fuel cell engine, the FCeTM80, supports a 500-hp traction motor with 2,900 foot pounds of direct drive torque. It has a gross vehicle weight rating of 80,000 pounds, an estimated driving range of 200 miles under normal drayage operation, and can be fully refueled in less than nine minutes.
"Demonstrating the viability of zero-emission trucks for goods movement is a vital step toward Southern California meeting its federally mandated standards for healthy air," said Wayne Nastri, executive officer of the South Coast Air Quality Management District.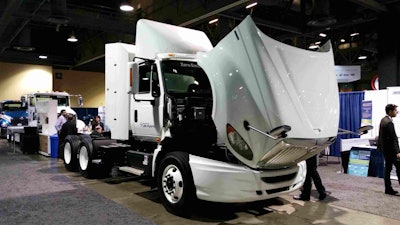 California-based Coalition for Clean Air also welcomed the trucks.
"US Hybrid deserves our thanks and appreciation for its cutting-edge clean technology leadership," said Dr. Joseph Lyou, Coalition for Clean Air president and CEO.
"These new fuel cell trucks will help protect the health of disproportionately impacted communities near our ports, rail yards, warehouses, and freight transportation corridors."
US Hybrid is positioning itself to be a major US manufacturer of fuel cell engines for the medium- and heavy-duty commercial transportation sector. The company announced its plans to expand its Connecticut production facility through a partnership with Dewei.
The joint venture, dubbed US FuelCell, will focus on the production of US Hybrid's PEM fuel cell engines, including the FCeTM80, which is designed for heavy-duty trucks and transit buses, and the FCeTM40, an 40kW fuel cell engine made for class 6 and 7 trucks and medium-duty transit buses.
The compact and high efficiency FCeTM80 and FCeTM40 units have been designed to be integrated, controlled, and serviced just like a conventional engine with J1939 diagnostics and easy access to critical components to minimize service time. The FC engines are utilizing US Hybrid's unique advanced freeze capable technology, which enables start at temperatures as low as -30 degrees Celsius without a cold climate option package.
US FuelCell anticipates production and delivery of more than 1,200 PEM fuel cell engines in the next 36 months. The expansion of production facilities in US and China will enable the company to build and deliver 2,000 fuel cell engines per year in the U.S. and an additional 2,000 engines in China. The higher-volume fuel cell engine production capability will enable fleets to realize a comparable return on investment as other clean fuel engines, US Hybrid reports.
"Dewei is committed to the successful development of fuel cell technology for commercial buses and trucks, as evidenced by our $42.8 million investment in Chinese fuel cell production and establishment of a $428 million industrial fund," said Zhou Jianming, Dewei chairman. "This new partnership with US Hybrid will enable US FuelCell to meet market demand cost-competitively in China, North America, and Europe."
US Hybrid president and CEO Abas Goodarzi, Ph.D., P.E., said the partnership with Dewei will address air quality concerns in the U.S. and abroad.
"Our joint venture with Dewei will dramatically increase the availability of PEM fuel cell engines for commercial vehicles globally," said Goodarzi, a 35-year veteran of the electric, hybrid, and fuel cell industries. "Given that heavy-duty engines are the leading source of smog-forming emissions in many metropolitan areas throughout the world, we are thrilled to provide an economically viable zero tailpipe-emission solution to help cities achieve their air quality improvement and climate change mitigation goals."