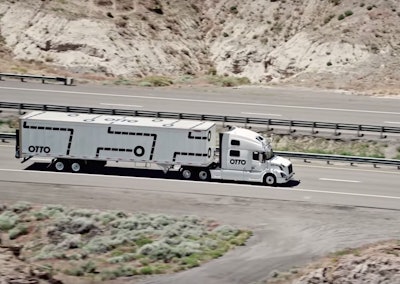 An autonomous vehicle technology company in California is looking for 1,000 truckers to participate in autonomous vehicle testing.
Otto, co-founded earlier this year by autonomous driving pioneer and former Google autonomous fleet technical lead Anthony Levandowski, has equipped three Class 8 trucks with self-driving tech and recently finished its first autonomous road test in Nevada, according to the Associated Press.
Truckers are now needed to help test Otto's technology on additional trucks. The self-driving kits will be installed free of charge on 1,000 trucks. Drivers must still be able to take control of the wheel if needed.
Otto's autonomous systems are designed to control a truck on highways. Once a truck leaves the highway, drivers are expected to take control. This approach to self-driving tech is often compared to the automation of airplane flight: computers guide planes through the majority of the trip, while pilots take over on take-offs and landings.
Levandowski is often credited as a pioneer in the growing field of autonomous driving. His self-driving motorcycle, the Ghostrider, was created in 2004 and is now housed in the Smithsonian's National Museum of American History. Before Google's fleet of autonomous cars made headlines, Levandowski modified a Prius to deliver a pizza using autonomous tech in 2008. The PriBot crossed the San Francisco-Oakland Bay Bridge to make the delivery.
Otto is also led by former Product Lead of Google Maps, Lior Ron. The San Francisco-based company employs about 40 people, some of whom worked for Google, Apple and Tesla. A statement on their website reads in part, "…we're a team of the sharpest minds in self-driving technology and robotics."
Visit ot.to to learn more about the company, including contact information.