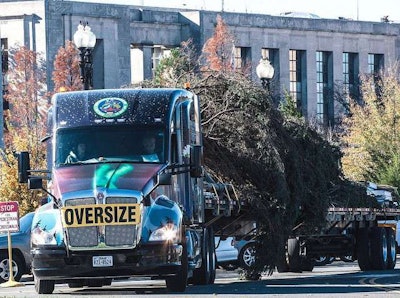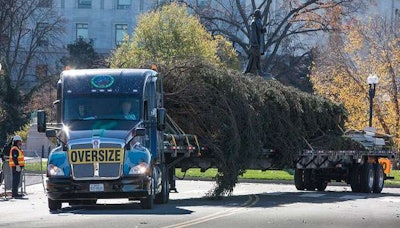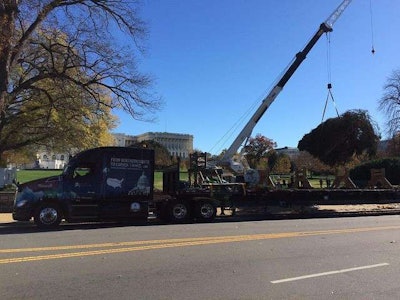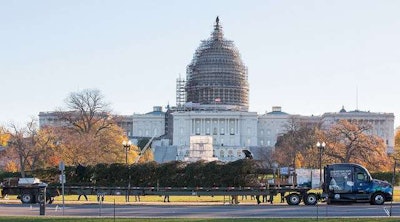 The U.S. Capitol Christmas Tree was lit in a special ceremony attended by hundreds of people Wednesday night on the Capitol's West Lawn, capping the 74-foot Lutz spruce's journey that spanned more than 4,000-miles.
The tree was harvested in late October in the Chugach National Forest in Alaska and transported by ship 1,000 miles from Anchorage to the Port of Tacoma. It was then hit the road for more than 3,000 miles, hauled by a specially-decaled Kenworth T680.
The special Kenworth T680 was operated by Lynden Transport, a long-time Kenworth customer and valued partner. The T680 was made available for the tour by PacLease, which offers customized full-service lease, rental and contract maintenance programs featuring Kenworth trucks.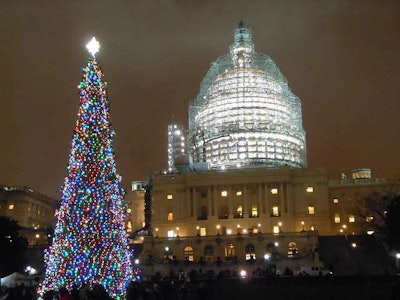 This year marks the 51st anniversary of the traditional Capitol Hill Christmas Tree ceremony and the tour attracted more than 10,000 visitors at 14 scheduled stops across 12 more states in the Lower 48. The spruce is decorated with more than 4,000 hand-made ornaments, crafted by children and others from Alaska communities.
"This year's Capitol Christmas Tree Tour provided some great moments for the adults and children at the community events and for those who saw the 'The People's Tree' going down the highway transported by our special Kenworth T680 tour truck," says Kurt Swihart, Kenworth marketing director.
The tree will remain lit with strands of LED (light-emitting diodes) lights from dusk until 11 p.m., each night through the holiday season.