As the country braces for the Atlantic hurricane season, OnStar-equipped Chevrolet, Buick, GMC and Cadillac vehicles offer Crisis Assist services to customers, regardless of which plan to which they subscribe, in the event of an extreme weather emergency.
The 2015 Atlantic hurricane season runs from June 1 through November 30 and includes the coastal regions of the Atlantic Ocean, Gulf of Mexico and Caribbean Sea.
More than 1.1 million OnStar customers reside in these areas.
The National Oceanic and Atmospheric Administration predicts a 70 percent likelihood of six to 11 named storms during the 2015 season, three to six of which could become hurricanes.
"Staying informed and developing an emergency plan can make the biggest difference during a severe weather season," said Mary Ann Adams, OnStar crisis incident manager. "Safety and security are at the foundation of our services and we are available to subscribers at any time with weather updates, traffic conditions, evacuation routes and to direct emergency services."
OnStar has relationships with more than 6,000 9-1-1 emergency call centers nationwide, allowing subscribers to receive fast, localized assistance in any type of emergency.
In a hurricane or other disaster, a push of OnStar's red emergency or blue button will put drivers in contact with an advisor for assistance.
Anyone living near or traveling to a hurricane-prone area should be prepared. OnStar has developed aHurricane Preparation Checklist and includes such tips as:
Create a disaster kit with essentials: Always include enough food and water for each person. Also make sure that you have copies of personal documents and, extra cash and traveler's checks.
Take steps to protect your property: Minimize the likelihood for damage by installing hurricane shutters, securing loose siding and removing diseased tree limbs near your home.
Set your evacuation plan beforehand: Knowing what to do in case something happens can save time and lives. Determine if you live in a flood zone, stay alert for extended rainfall and flooding and be prepared to evacuate if advised by authorities.
Before a crisis, OnStar is available with weather updates, including severe weather warnings, and can help subscribers find shelter.
During a crisis, subscribers can request emergency assistance for themselves and others, or get the latest information on evacuation routes and areas impacted by the natural disaster. After a crisis, OnStar continues to assist with emergency and navigation response services, and can also connect subscribers to loved ones.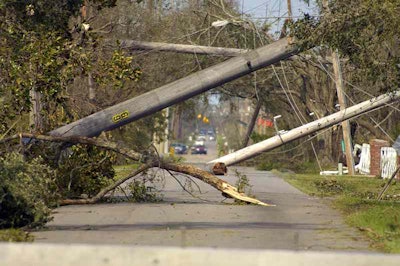 OnStar often provides assistance in situations when cell phone service may be compromised.
OnStar provided more than 65,000 complimentary Hands-Free Calling minutes between May 24-29 to help customers impacted by flooding in Texas and Oklahoma.
These minutes were used to connect subscribers with loved ones and relay information, often where cell phone function was limited.
For more resources on how to prepare for a hurricane, visit the Federal Emergency Management AuthorityAmerica's PrepareAthon. Click here for more information on OnStar Crisis Assist.