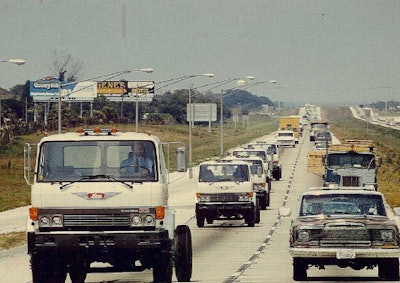 Hino Trucks is marking a milestone: 30 years in business in the United States.
Founded in 1984 as a limited distributorship with responsibility for importing class 4 through 7 cab-over trucks, Hino has evolved into a prominent U.S. company with a dealer network of more than 200 points, assembly and manufacturing facilities in Williamstown, W.Va., and Marion, Ark., and with eight locations throughout the country.
Having garnered more than a dozen industry awards for customer satisfaction and "Truck of the Year" three times in the last six years, Hino Trucks continues to set record sales and post market share gains annually that make the 30-year-old company one of the country's fastest growing medium duty truck brands, the company says.
"While we are proud of our many accomplishments, the legacy of Hino Trucks over its first 30 years is not defined by the numbers it has accumulated, but by the lives it has touched in its journey," says Glenn Ellis, vice president of marketing, product planning and dealer operations. "To some, Hino Trucks represents a reliable transportation source that enables businesses to meet the needs of their customers. Still others look to Hino Trucks as a trusted business partner that can be counted on as a steadying presence in a volatile economic environment."
Yoshinori Noguchi, president and CEO of Hino Trucks, adds that while many things have changed since 1984, the company's goals have always remained the same: "to create the most innovative, high quality products in the industry."
"To all of our employees, dealers, customers and shareholders, we thank you for your continued commitment to Hino Trucks," Noguchi says. "In looking back at 30 years in the U.S. market, we have learned how to deal with success and challenges. We have adapted and will continue to do so to meet the needs of this demanding market. Our 30th anniversary is a milestone and turning point for Hino to take the next step. I am excited about this journey and believe the best is yet to come."