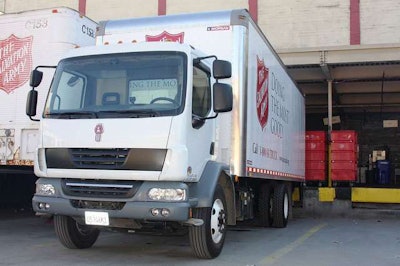 For The Salvation Army, its tag line: "Doing the Most Good" is exactly that. The non-profit entity has been helping families and individuals before automobiles were ever invented.
According to Henry Filoteo, The Salvation Army's western territorial director of production, "Doing the Most Good" also transfers down the line to its fleet of trucks.
In Filoteo's territory, which covers 22 locations uses 305 mostly Class 6 and 7 trucks to pick up donated goods, then deliver to warehouse locations for sorting, cleaning and preparation for sale at The Salvation Army's Family Stores. Proceeds fund The Salvation Army's Adult Residential Rehabilitation Centers.
Only a few years ago, picking up used items also applied to its fleet of trucks.
"We bought used in hopes of saving money," Filoteo says. "At one time we were running five different brands – some old, some even older. Our maintenance costs were killing us, and we had to have spares on hand in case a truck couldn't make it out of the yard."
Today, that's all changed. The Salvation Army re-created its philosophy and truck fleet by giving up the old and coming in with new Kenworths.
The latest addition has been Kenworth's K370 and new K270 medium duty cabovers, purchased through NorCal Kenworth – San Leandro.
Since standardizing on Kenworth trucks, the "Army" has gone from 425 trucks in 2009 to 305 today and deliveries and productivity are up, according to Filoteo.
"It's been a combination of running trucks that are reliable so we don't have to have spares on hand, along with moving from 22-foot boxes to 24-and 26-foot boxes for the majority of our trucks. Plus, we now have a new material roll-off system in our trucks, so we reduced the time to load by 40 percent."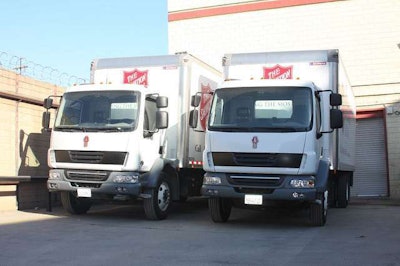 In the tight confines of Santa Monica, Filoteo put seven Kenworth K270s to work.
"That area was especially challenging for us due to the tight streets and the lack of a loading dock," says Filoteo. "We equipped them with 22- and 24-foot bodies for an overall smaller vehicle size, plus spec'd 19.5-inch wheels to lower our height. This gives our drivers the perfect truck for pickup and delivery in that area. The trucks also allow for a larger lift gate platform than the chassis we used before. That makes a big difference for loading and unloading."
Twenty K370s with 26-foot boxes, are used throughout San Francisco, Oakland and Sacramento.
According to Filoteo, a key advantage of the K270 and K370 cabovers over medium duty conventional trucks is a 55-degree wheel cut for a tighter turning radius and greater maneuverability for operating in crowded urban environments.
The Salvation Army's K270 and K370 are powered by 6.7-liter PACCAR PX-6 and PX-7 engines with a 220-hp rating and 520 lb-ft of maximum torque. They're driven through Allison 5-speed transmissions.
The bumper-to-back-of-cab (BBC) of only 63.4 inches for the Kenworth cabovers – compared to a 106-inch BBC on medium duty conventionals – also provides plenty of room for a large van body. This enables the K270 and K370 to haul more payload with a shorter overall length. This is especially important as overall truck length is becoming more regulated in some major metropolitan cities. In addition, the Kenworth cabovers offer a large windshield for enhanced visibility, and room to carry a three-person crew with a driver air-suspended seat and two-person bench seat.
Rounding out the non-profit's cost-reduction transformation was its maintenance costs.
"Looking back and crunching numbers, in one region we had four locations, and 50 trucks," Filoteo says. "We spent $440,000 in maintenance repairs in 2008 and 2009. With new Kenworths in place, and to give perspective, during 2011-2012 (a year after the trucks had been in service), maintenance costs went down to $159,000 in a like 2-year period."
The end result?
"Each of our trucks makes about 30 stops a day, and we schedule appointments within a 72-hour window," Filoteo says. "In the past, if we had a truck that broke down in the morning, we'd have to call 27 other donors and tell them 'we're sorry, we can't send a truck out to pick up your donation today.' Not only was that a huge inconvenience for them, it meant we lost a lot of donations. With our fleet of Kenworths, The Salvation Army picks up the donations when we say we will. And we do it in a cost-effective manner."