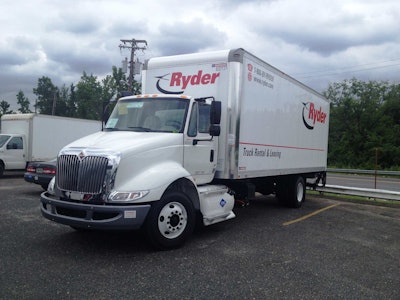 Ryder System, Inc. said Thursday it has begun to take delivery of 39 light- and medium-duty compressed natural gas (CNG) vehicles, the first of their kind in North America available for lease or rent.
The vehicles include 20 Greenkraft cab-over vehicles with 6.0-liter General Motors natural gas engines and 19 Navistar International TranStar trucks with Cummins Westport ISL G engines, and the 39 new light- and medium-duty vehicles represent an expansion of Ryder's 300 plus heavy duty natural gas vehicle fleet.
Kevin Keene, Sales Director for Navistar, says the TranStars were developed specifically for Ryder.
The CNG trucks range in gross vehicle weight from 16,000 to 33,000 pounds and are available for lease or rent from Ryder in California for use in metro/city delivery applications.
The initial 39 vehicles will be maintained at Ryder's natural gas compliant California maintenance facilities in Orange, Fontana, Rancho Dominguez and West Sacramento.
"Ryder's natural gas vehicle program in California is also a model of public/private collaboration that is helping to develop a long-term and sustainable growth trajectory for cleaner, cheaper, and cost-effective natural gas," Robert Sanchez, Chairman and Chief Executive Officer for Ryder, says.
Funding for the incremental cost of the vehicles was provided by the California Energy Commission and the Mobile Source Air Pollution Reduction Review Committee (MSRC). These grants enable Ryder to make the cost of renting or leasing CNG vehicles more comparable to traditional diesel trucks.